Kanye West Is Officially the Fifth Beatle — Sort Of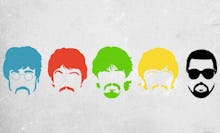 As of today, Paul McCartney is to Jay Z as Kanye West is to John Lennon.
It may sound as implausible as the old "Paul is dead" rumors, but according to Consequence of Sound, Kanye West and Paul McCartney are rumored to be collaborating on a record. Sources tell the New York Post that the two musicians have been creating music together on the down-low, and may even have enough material for a whole album. Countless fans have envisioned such an alliance, stoked further by each artist publicly praising the other. We even got a taste of what it might sound like from last year's mashup album of Kanye and classic Beatles jams, What's a Black Beatle, Anyway?
Page Six reports that one of the songs will be titled "Piss on My Grave," certainly a weird joint sentiment for rock stars from two vastly different eras, but Consequence of Sound notes that if the McCartney-West project is anything like Ye's collaborations with Elton John and the Police, then we're in for something truly legendary.
The collaborative album is still only rumored, but Kanye's next effort is definitely happening this year. Could there be a Paul McCartney appearance on that record? We'll have to wait 'til this September — OK, maybe November — to find out.
h/t Consequence of Sound.