This Is the Latest Bizarre Fashion Trend in Female Swimwear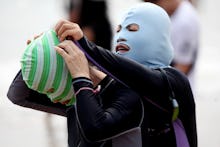 The news: Middle-aged women in China might not top everyone's fashionista list, but maybe they should.
They're responsible for the newest trend in swimwear — the face-kini.
Image Credit: Getty
The mask, which is part bank robber, part Nacho Libre, is designed to protect the wearer from harmful UV rays. It's the latest in creative sun protection from China, which previously has devised capes, removable sleeves and umbrellas that attach to bike handles, according to the BBC.
Image Credit: Getty
The fad first gained global attention in 2012, but recently popped up again due to its prominence in an August 2014 photoshoot in CR Fashion Book, a magazine created by former Vogue Paris editor-in-chief Carine Roitfeld.
Image Credit: CR Fashion Book 
An obsession with fair skin: Unlike the United States, where tan skin is highly desired and 35% of adults have used a tanning bed, China has a history of prizing pale skin over a suntan.
CNN Travel notes that there's a saying about white skin in China: "White skin covers up a hundred uglinesses," it apparently goes. Skin-whitening creams and beauty products are also enormously popular; CBS News reports that the skin-whitening business brings in $2 billion in China every year.
Image Credit: Getty
The fixation on fair skin is due in part to socioeconomic status, Frank Dikotter, a professor in Hong Kong studying Chinese culture, told CBS. "Those who work outside, till the fields, of course, tend to acquire a very dark complexion, whereas those inside — nobles, aristocracy — highly value white skin as a result, or lighter skin," he said.
The CR Fashion Book editorial says it all: "These beautiful eyes are peering from behind a mask — still enjoying summer, but avoiding a summer glow at all costs."
Image Credit: Getty 
The high-fashion fixation might be a good thing: The peculiarity of middle-aged women in China as muses for high fashion glossies hasn't been lost on some Internet users in China. According to the BBC, the trend sparked almost 12 million posts on Weibo, China's version of Twitter. They reported some users saying, "It looks like bank robbers are raiding the beach."
But as ridiculous as they appear, the masks are on the right track when it comes down to it. The Centers for Disease Control and Prevention warns that indoor tanning is a serious danger, and can cause skin cancers like melanoma and basal cell carcinoma. Regular tanning isn't ideal either, and sunscreen is always a good idea.
Image Credit: CDC
Face-kinis might not be flying off the shelves in America anytime soon, but it's worth paying attention to the thinking that inspired them.