Taylor Swift Just Debuted Her New '80s-Themed Song and Video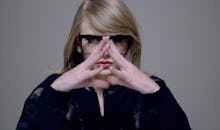 In a livestreamed announcement coming one awkward hour after the president's press conference on Ferguson, Taylor Swift debuted her new single, "Shake It Off."
The song comes after a few weeks of teasing from Swift's camp. On Aug. 4, she posted an Instagram in which she repeatedly pressed an elevator button marked "18," which, apparently, forecasted the release date for the new song. 
The song's video is offensively vanilla in its PG insistence that twerking is risque (see below), but the song itself is almost ruthlessly catchy. With a central horn line straight from Max Martin's 2014 playbook, a classic Swift hook and oft-repeated lyrics taking down Swift's haters, she has once again proven that she's a pop savant. 
Image Credit: YouTube
After debuting her video at the press conference, she announced "Secret Surprise No. 2" — her brand new album, 1989, due out on Oct. 27 of this year. The title is based on Swift's birth year as well as her belief that "[the] late 80s were a time of just limitless potential ... bright colors, bold chances, rebellion." She also announced that this was her "first documented official pop album."
Neither of those statements seems entirely true. "Limitless potential" is probably not how people born before 1989 (whose names aren't "Ronald Reagan") remember the decade, and if this is Taylor Swift's first pop album, then the indie credibility of this nation just went through the roof. None of that means Swift doesn't know what she's doing, though — all you need to do is watch her Keds advertisement before the video or listen to the song for proof.