Hillary Clinton Is the Kanye West of Public Speaking Engagements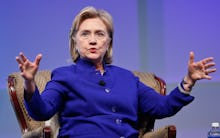 The news: It's no secret that Hillary Clinton makes big bucks with her speaking engagements — but the perks that come with her gigs are no joke either.
The Las Vegas Review-Journal has just published a "rider" — a list of requirements that a venue must provide — for Clinton's upcoming speech at the University of Nevada, Las Vegas Foundation fundraiser It's kind of shocking. While the former Secretary of State's 90-minute appearance will net $225,000, her standard contract also reportedly includes first-class accommodations for herself and her staff and restricted interactions with those attending the event.
"Clinton will remain at the event no longer than 90 minutes; will pose for no more than 50 photos with no more than 100 people; and won't allow any press coverage or video- or audio-taping of her speech," the contract specifies.
Other items in the contract reportedly include:
- Round-trip flight on a chartered private jet "e.g., a Gulfstream 450 or larger jet."
- Pre-selected hotel accommodations including "a presidential suite for Secretary Clinton and up to three (3) adjoining or contiguous single rooms for her travel aides and up to two (2) additional single rooms for the advance staff."
- A $500 travel stipend for Clinton's lead travel aide.
- Meals, phone charges and incidentals for Clinton and her staff.
- Final approval of all event moderators or introducers.
Clinton's requests might seem over-the-top, but this is the new normal. Recent celebrities with infamous riders have included M.I.A. (female dancers in burqa), Kanye West (imported and recut Versace towels to wipe his sweat), Mary J. Blige (brand-new toilet seats in every dressing room during her 35-city tour in 2006) and Britney Spears (bun-less McDonald's cheeseburgers and a framed photo of Princess Diana in her dressing room).
And while these high-flying perks atop a six-figure fee for a mere 90-minute appearance can appear excessive, Clinton and her husband have made a business out of speaking engagements. According to the Washington Post, Bill Clinton alone made a staggering $104.9 million from delivering 542 speeches since he left the White House.
Doing some quick math, that works out to about $193,542 per appearance, or about $31,000 less than Hillary. 
And it's a business that pays off. There is a reason event organizers are willing to foot such high bills and go the extra length to accommodate the Clintons: They are huge draws and they get donors — at least those with Democratic inclinations — to open their wallets.
According to analysis by the Wall Street Journal published last month, the Clintons together have raised "more than $1 billion from U.S. companies and industry donors during two decades" to support their various political campaigns and causes. The couple have used their considerable clout and fundraising skills to support the Democratic party in the past, and already have the infrastructure in place to fund a potential presidential run for Hillary — a prospect that even the Republicans admit and fear.
"Clinton Inc. is going to be the most formidable fundraising operation for the Democrats in the history of the country. Period. Exclamation point," Rick Hohlt, a Republican fundraiser, told the Journal. "It sure causes concern."
In short, you too can demand private jets and limited photo ops when you can pull in as much cash as Hillary Clinton does.