Laverne Cox's Heartbreaking Interview Highlights the Challenges of Growing Up Transgender in America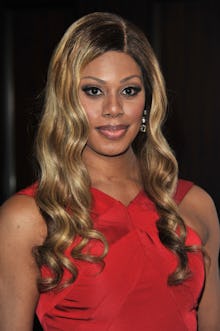 Emmy-nominated actress Laverne Cox appeared on ABC's This Week with George Stephanopoulos to discuss her landmark role as Sophia Burset on Orange is the New Black, as well as her activism and what it means to be a leading voice of the LGBT movement and of the transgender community in particular. Cox shared openly about her own struggles as a suicidal LGBT child, offering inspirational words to all those who, like she once had, feel like it may never get better.
While acknowledging that her character, Sophia, is just one trans voice among many, she said that she hopes her portrayal gives the transgender community validation through representation. "So many trans folks have said that they see themselves reflected in this character," she said. "Having your story told validates your experience. It's like, 'I'm not alone anymore, and maybe I'll be OK.'"
She also spoke with Byron Pitts (subbing for Stephanopoulos) about the challenges of growing up trans in Mobile, Ala., not only a pervasively racist culture, but a sexist one as well. "I was bullied and I internalized a lot of shame about who I was as a child," she said. "Bullied because I didn't act the way someone assigned male at birth was supposed to act. And so I was called sissy, I was called the f-word. I was chased home from school practically every day. There was always a kid or groups of kids who wanted to beat me up."
We have reached a critical moment in American culture regarding transgender rights, but there is still work to be done, considering the excessive amount of violence perpetrated against trans individuals, specifically trans women of color. Trans people make up about 10% of the LGBT community but well over half of the homicide rate. 
Cox's story about her attempted suicide resonates with the trans community's experience, with the Williams Institute reporting that the "prevalence of suicide attempts" in the community is situated at 46% for trans men and 42% for trans women. 
This is not the first time Cox has spoken out recently about trans visibility in the media. She further elaborated upon her position in a Creative Emmys red carpet interview with AfterEllen's Trish Bendix. The work of Cox, Janet Mock and others continue to push the dialogue when it comes to both the inclusion and acceptance of trans individuals throughout the various forms of media culture. This tireless advocacy has continued to open channels to larger levels of both self and societal acceptance of the trans community.