The Legendary Voice of 'Saturday Night Live' Has Died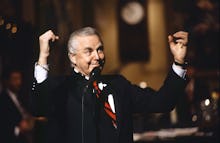 Don Pardo, one of TV's most identifiable voices, passed away Monday night at the age of 96.
Pardo had a six-decade career in television announcing and voice work, with a voice most recognizable for introducing every episode of Saturday Night Live with a booming "It's Saturday Night Live," followed by a listing of the show's players. "Nothing is like the moment when Don Pardo says your name," former cast member Jimmy Fallon said in a 2010 interview with the New York Times.
A constant since the very first season of SNL, Pardo announced every season aside for one (in 1975). When he retired from NBC in 2004, Pardo stayed at his SNL post, which he manned through the end of the most recent season. 
Saturday Night Live Intro Clip (2009 - Present) from Pentagram on Vimeo.
Pardo's career began in radio, first as an announcer at NBC and eventually a war reporter during World War II. He continued as an announcer for broadcast, moving into TV in the post-war decades. His voice is also immortalized as the announcer for news bulletins after the assassination of President Kennedy. 
Pardo's has been one of the most ubiquitous voices on television. In addition to his early news work and later SNL work, he was also an announcer for gameshows like The Price Is Right, from 1956 to 1963, and Jeopardy! from 1964 to 1975. In 2010 he became the first TV announcer to be inducted into the Television Academy Hall of Fame.
With all of the history-making voice work he did, it is his SNL legacy that will live on. For those whom he introduced each week during a formative stage in their comedy careers, Pardo was the ultimate symbol of making it big and will be dearly missed by many. During his Hall of Fame induction, Maya Rudolph said it best: "The moment you said my name was the height of my career."