Jason Reitman's Next Movie Perfectly Captures the Strange Nature of Modern Life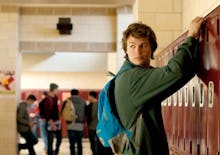 Without a single line of dialogue, Jason Reitman's new trailer creates one of the most affecting movie previews in recent years. Entirely composed of people's conversations via phone and computer, the new movie by the director of Juno entitled Men, Women & Children features a cast of unloved, unhappy characters whose Internet lives and real lives begin to mix in different ways.
The film, which is an adaptation of the Chad Kultgen book, is Reitman's follow up to the panned Labor Day. From the looks of the trailer though, Men, Women & Children might have some of the unique magic we recognize from great Reitman films like Up in the Air and Thank You for Smoking. 
The trailer also visually explores something that is often hard to display effectively on TV or film: online chats, browsing and text messaging. Slate recently posted a video essay by Tony Zhou that features a supercut of different representations of these on the screen. To base an entire film in both the world of communication and the world of people is a real challenge, but from the trailer, it seems that Men, Women & Children has found a visually arresting way of showing the way our 3D and 2D lives meld and merge.
Aside from a captivating and current premise, the cast is also spectacular, featuring Adam Sandler, Rosemarie DeWitt, Judy Greer, Jennifer Garner, Emma Thompson and Ansel Elgort, fresh off his success in The Fault In Our Stars. 
With Reitman's portfolio of sharp and witty social commentary, Men, Women and Children looks poised to follow suit. The film will debut at the Toronto Film Festival on Sept. 6.