Your Favorite Trader Joe's and Whole Foods Items Are Being Recalled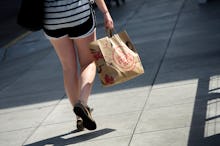 Getty Images
The news: None of your favorite spreadables are safe: Not only is the price of Nutella expected to significantly go up, but large batches of gourmet peanut and almond butter are now being recalled as well.
On Tuesday, Hain Celestial Group Inc. announced that it is recalling its nut butters over fears of possible salmonella contamination. According to the Associated Press, the affected brands are Arrowhead Mills peanut butters and MaraNatha almond butters and peanut butters, as well as some private label almond butters sold at Whole Foods, Trader Joe's, Kroger and Safeway.
Is it dangerous? So far, only four people have salmonella symptoms in connection to these nut butters. According to the CDC, most people recover from salmonella with treatment: Every year, 1.2 million Americans suffer from illnesses related to salmonella, with only 450 cases resulting in death.
Still, salmonella can still be dangerous to children, the elderly and people with suppressed immune systems.
To stay safe, check this FDA list of recalled peanut and almond butters. If you recently bought a jar from one of the brands on the list, don't eat it.
As a precautionary measure, grocers are taking the affected peanut and almond butter brands off the shelves, which means you might not be able to buy your nutty spreadables for the time being.
This is bad news for upscale grocers. While peanut butter may be a national staple, almond butter is a particular favorite among the hipster crowd. According to FOODBEAST, almond butter is the seventh most popular purchase item at Trader Joe's, and the latest figures by the Department of Agriculture indicate that almonds are now the most popular nut in the U.S.
While the recall may be over soon, it goes to show that not even your favorite gourmet gluten and trans fat-free almond butter is safe from salmonella.