Nicki Minaj's New 'Anaconda' Video Is Here — And It's a Huge Letdown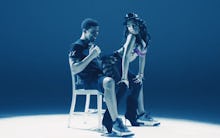 With all the hype around Nicki Minaj's empowering single "Anaconda," many expected the video to be truly mind-blowing. It takes about 30 seconds to see that the opposite is true -- this video isn't challenging anything, it's only playing by the same game that the entertainment world has foisted on women for decades.
The song "Anaconda" is a bold, sex-positive statement about a woman's ability to own her own body and sexuality. The video, though, completely fails to follow through on the song's potential for a powerful feminist message, instead relying on the tired trope of hypersexualizing women's bodies.
It opens with Minaj and a gaggle of backup dancers in a jungle setting, writhing and sweaty as they grind against the ground and each other. It also features Minaj in a kitchen, chomping down on a banana and covering herself with whipped cream. Drake also makes an appearance -- but only as a prop for a lap dance during which, as Gawker informed us, he got a "boner." This maybe doesn't count as empowering anyone except Drake.
There's been an enormous amount of discussion this year about women's body images in music -- twerking, anyone? -- and that's a good thing. In many ways, Minaj was the perfect person to address this discussion head-on because she has a history of owning her sexuality while also calling out the problems she encounters as a woman in the music industry. 
This is exactly why the "Anaconda" video is so frustrating: Instead of using her position to bring something new to the table and expand the conversation, Minaj simply reverts to the hypersexualization of women and their bodies -- in other words, she gives us more of the same. The video is directed by Colin Tilley, whose most influential video of the year was Jason Derulo's "Wiggle" -- not exactly a model for empowerment or body positivity. Ultimately, "Anaconda" is closer to a "Wiggle, Pt. 2" than anything revolutionary.
There are also other issues at play with the "Anaconda" video. The jungle location walks a fine line between scene-setting (one could argue she's playing up the "anaconda" theme) and primitivist stereotypes, while the line "fuck the skinny bitches in the club" doesn't do much to encourage body-diversity acceptance either.   
So perhaps ultimately the desired reaction here was the one Drake gave in his Instagram hashtag: "#MyAnacondaWasWayUp." After a lengthy and controversial campaign for her new single, Minaj has shown that she isn't looking to change much at all.