The World's Most Livable Cities All Have One Big Thing in Common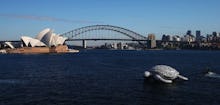 Getty Images
None of them are in the U.S.
If you're fed up with the U.S. and looking for the expat experience, then you'll want to head to one the world's best spots to live -- a place that boasts great culture, good education, accessible health care and few disruptive conflicts.
For the fourth year in a row, Melbourne took the top spot with a total score of 97.5 out of 100. The impressive score can be partially attributed to their perfect scores in the health care, infrastructure and education classifications. Several of Melbourne's fellow Australian cities filled out much of the top 10, along with a handful from the Great White North. Combined, Australia and Canada scored big, claiming 7 out of the top 10 cities.
The full top 10 are:
1. Melbourne, Australia
2. Vienna, Austria
3. Vancouver, Canada
4. Toronto, Canada
5 (tie). Adelaide, Australia
5 (tie). Calgary, Canada
7. Sydney, Australia
8. Helsinki, Finland
9. Perth, Australia
10. Auckland, New Zealand
It all comes down to health care: A common factor of these livable cities was a high score in the health care category. The top nine spots all garnered scores of 100 in that category. To determine health care, the EIU looked at the availability and quality of private health care, availability and quality of public health care, availability of over-the-counter drugs, and general health care indicators.
No wonder the U.S. didn't even place in the list. America's expensive health care system ranked the worst of 11 other nations mostly because of poor access and inefficiency.
The takeaway: Canada, Australia and New Zealand offer a variety of very livable cities, thanks in large part to their great health care, education, culture and environment, affording the countries general stability. Plus, as all English-speaking countries, they're especially attractive destinations for any Americans considering a move.
The findings of the report highlight the exact areas where America should get their act together: a costly and inefficient health care system, instability from conflicts and violent crimes, and a lagging education system in the global rankings. The likelihood of dramatic changes in these categories in the near future is slim. American cities are failing to clean up and get in shape, and Australia and Canada are putting us to shame.
h/t CNN