How Many Gunshot Victims Have There Been In Ferguson So Far? Hospitals Refuse To Say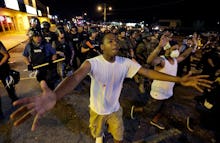 A police shooting can create an immediate call to action -- people want to know exactly what happened and how the victim is doing. But in some cases that information is kept under wraps, thanks to hospitals' interpretations of patient privacy laws.
A case in point, as described by the St. Louis Post-Dispatch, is that of Esrail Britton, a 19-year-old who was shot multiple times by St. Louis County police last week, close to the main Ferguson protest area. The police say Britton pointed a handgun at an officer.
Britton, who has been charged with multiple felonies, is in a St. Louis-area hospital. But we don't know his condition, or even which hospital he's in, meaning reporters and activists must rely on the police for updates (unless Britton's family releases information). Unfortunately, it may take a while for information about further victims of violence in Ferguson to come to light.
The rules: The Health Insurance Portability and Accountability Act, or HIPAA, was passed in 1996 as a way to protect workers' health insurance when they change jobs and to standardize record-keeping.
The act had a new rule on privacy for "Protected Health Information," which is open to interpretation but tends to include things like a patient's medical record and payment history.
Guidelines from the American Hospital Association say that, to comply with HIPAA, only information found in the hospital's directory can be released to the media. That's where the difficulty lies with St. Louis-area hospitals -- they keep patients deemed "victims of violence" out of the directory for safety purposes, an official told the Post-Dispatch, meaning they have no information to share about people like Britton.
Overstepping? According to the Post-Dispatch, legal experts have called the hospitals' interpretation overly broad, especially because there are no special provisions for dealing with victims of violence included in HIPAA.
"The bottom line is that the hospital is not prevented by HIPAA or Missouri law from providing you with a condition status and verification if you are asking about the patient name," Kelly Dineen, assistant professor of health law and ethics at St. Louis University's School of Law, told the Post-Dispatch.
It's not just Britton, either. One hospital reported treating two gunshot victims. It lines up with police reports that two protesters were shot, but we don't know their identities or how well they're doing. Without hospitals speaking up, all observers can do is listen to the police.