Obama: 'The Entire World Is Appalled' by the Killing of Journalist James Foley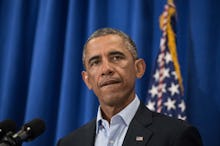 President Barack Obama had strong words for Islamic State during a statement Wednesday regarding the group's execution of freelance photojournalist Jim Foley, who had been missing since 2012 after disappearing in Syria.
"Jim was taken from us in an act of violence that shocks the conscience of the entire world," he said, speaking from Martha's Vineyard in Massachusetts. "We are all heartbroken."
The president ripped into IS (formerly known as ISIL), which has swept across part of Iraq, taking over towns and kidnapping and killing people in an attempt to establish a new state. 
"ISIL has no ideology of any value to human beings," Obama said. "They have rampaged across cities and villages, killing innocent unarmed civilians in acts of cowardly violence. ... No just God would stand for what they did yesterday and what they do every single day."
He added that IS's victims are overwhelmingly Muslim, and that the group "speaks for no religion."
The comments come after the group beheaded Foley in a video it released online. Foley was remembered by his mother Diane in a statement posted to the Free James Foley Facebook page:
"We have never been prouder of our son Jim. He gave his life trying to expose the world to the suffering of the Syrian people. We implore the kidnappers to spare the lives of the remaining hostages. Like Jim, they are innocents. They have no control over American government policy in Iraq, Syria or anywhere in the world.
The Foley family echoed those sentiments in an emotional news conference outside their New Hampshire home Wednesday afternoon.
Did the U.S. know? According to ABC News, the government knew that IS was threatening to kill Foley after the U.S. conducted airstrikes to help Kurdish and Iraqi forces regain ground in their home country.
WCVB reports that the Global Post, the online news outlet for which Foley was freelancing when he was captured, received an email last week from his captors "stating their intention to execute Jim," according to president and founder Philip Balboni. Balboni told WCVB that the White House was aware of the communication but that the threat did not lead to any negotiations over Foley's release.
The latest threat from IS is much more public. In the same video that depicted Foley's execution, IS shows captured journalist Steven Sotloff, warning that his fate will depend on Obama's "next decision." Given his response Wednesday, that decision is unlikely to include leaving IS alone.
"The United States of America will continue to do what we must do to protect our people. We will be vigilant and we will be relentless," Obama said in his speech. "When people harm Americans, anywhere, we do what's necessary to see that justice is done. And we act against ISIL, standing alongside others."