How Cartoon Network Became the MTV of the 21st Century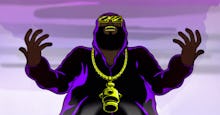 MTV revolutionized music in the '80s as a platform to spread and celebrate good music. It has devolved into a purveyor of the debauched, the cheap and the smutty (see: Jersey Shore, 16 and Pregnant, Catfish). That's left a void in popular music, but recently one network has stepped in as the taste- and image-maker for our generation: Adult Swim on Cartoon Network is the new MTV.
Adult Swim became known for its crude animation and stoned humor in 2001, but it became a cultural revolution in 2007. That was the year it founded Williams Street Records. The network began by simply featuring music from promising under-the-radar artists in their bumper promos. They were short and sweet, but something started happening with those little videos -- they began to launch careers. Flying Lotus, now one of the most well-known indie electronic producers in the world, got his first real exposure from a quick Adult Swim ad based around this song.
Soon after the network started running these promos, Adult Swim became the unofficial animation house for some of the coolest music emerging from the underground hip-hop scene. They pitched in to animate music videos for Flying Lotus, including his impeccably trippy and liberated "Zodiac Shit," and recently they made news with an origin story for Lotus' rap alter-ego Captain Murphy, with more follow-up episodes promised. In the process of establishing the aesthetic for Flying Lotus, they built a new musical scene.
The cartooning network has expanded to curating concerts, such as the Adult Swim Upfront, which hosted Kanye West last year; it produces quality music journalism and it continues to come through with genius music-based crossover shows and films. They gave the rappers from Odd Future their own sketch show, Loiter Squad, and aired the hip-hop-era Freaknik the Musical, which starred all the rest of the biggest rappers in the game -- T-Pain, Snoop Dogg, Lil Wanye, Rick Ross and basically everyone else. Some sort of mysterious media and television deal with Jay Z has also reportedly also been in the works.
Williams Street Records has been similarly innovative in releasing a number of one-of-a-kind albums, such as Killer Mike and El-P's Run the Jewels project (which we featured as one of last year's top mixtapes), Brooklyn punk band Cerebral Ballzy's debut self-titled album and DangerDoom, a collaborative project between masked rapper MF Doom and producer Danger Mouse of Gnarls Barkley and Broken Bells fame.
The variety of artists Adult Swim chooses to promote is sprawling, but they have coalesced in the public consciousness through their cartoonish, countercultural aesthetic. Jason DeMarco, the network's vice president of On-Air, says what unites these artists is an attentiveness to skill over trendiness. "Adult Swim has become a success by making great shows and putting out great work without worrying too much about what's mainstream," he told Billboard. "For us, it's more interesting to use the platform of Adult Swim to provide great music -- whether the artist is a known act, a 'name,' an up-and-comer or a total unknown. The through line for me is that they are making great music. Our fans respond to that."
That's why the Adult Swim Singles program has been so successful. Every year since 2010, the network has reached out to up-and-coming artists to curate new singles for the network to release free to fans. DeMarco explained the project to Revolt TV: "To be clear, we let the artist own those songs. We're simply presenting them, and they can do whatever they want with them. So when we say to you, a bag of money fell out of the sky, you can use it to make a brand new song you can do whatever you want with as long as you let us give it away and promote you to millions of people -- does that sound like a good idea? Most artists say yes, thankfully."
What started as a nine-week promotion has grown to a 16-week-long party. This year, they've released some historic tracks. The stoner metal band Sleep announced their reunion by releasing a track through the program. And Giorgio Moroder, electronic music pioneer and recent Daft Punk collaborator, released his first single in 22 years, the 7-minute "Giorgio's Theme," to kick things off in June.
Getting Moroder on the Adult Swim singles program was a huge moment for DeMarco. He claims the man is a "lifelong idol" and is the equivalent of "his Beatles."
And sure enough, Moroder is foundational, as the Beatles were, just for a different kind of music. He was foundational for dance music, for quirky electronic music. And he's a sign that Adult Swim isn't playing around with their musical offerings -- they're crystallizing a whole new scene. 
DeMarco and the rest of the network are riding high, and considering all the success they've engineered, they're starting to make some big plans. "We think Adult Swim can be more than just a channel," DeMarco said. "It can be a place that delivers quality art, music and anything else we decide to focus on. That's the mission." His word is good -- these cartoons are the future of underground music