30 Fantastic New Movies You Can't Miss This Fall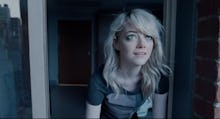 After all the fighting turtles and intergalactic superhero fare of the summer blockbuster months, we will soon settle into fall, when the plots are darker, the movies more memorable and the jostling for award nominations is palpable. 
To get you ready for these packed movie-viewing months, we've curated a list of the most exciting and talked-about new releases on the docket. 
Many of these movies will be the season's biggest award-winners, and some of them will probably live on as future classics. However it all works out, start marking your calendar. These are the films that will have everyone talking. 
1. 'The Disappearance of Eleanor Rigby' (Sept. 12) 
First-time feature writer and director Ned Benson made two movies, Him and Her, that were then blended into Them. The result is The Disappearance of Eleanor Rigby, a love story studied quite literally from both sides of a relationship. Starring Jessica Chastain and James McAvoy, the creatively told anti-romance looks to be a mainstream feature that toys with love and chronology in an inventive way -- think Eternal Sunshine of the Spotless Mind. With its unique structure and concept, it will also likely get some Boyhood comparisons.
2. 'The Skeleton Twins' (Sept. 12) 
We're used to seeing Saturday Night Live alums Bill Hader and Kristen Wiig in slapstick comedies, but The Skeleton Twins looks far more real. The duo star as twins reunited after 10 years apart, and are supported by a quirky, intriguing cast that includes Luke Wilson and Ty Burrell. The film won best screenplay at Sundance this year -- the script was written by director Craig Johnson as well as Mark Heyman (the writer behind Black Swan). Oh, and Variety called both Hader and Wiig's performances "knockout." 
3. 'This Is Where I Leave You' (Sept. 19) 
The cast is the draw here, and the credits are packed to the brim: Tina Fey, Adam Driver, Jason Bateman, Corey Stoll, Jane Fonda -- and that's just the immediate family in this shiva-focused dramedy. Based on the novel by Jonathan Tropper, this is certainly not Hollywood's first attempt at a story about a family all grown up and returning to their childhood dynamics. Hopefully the finished product will be more Arrested Development than The Family Stone. 
4. 'Laggies' (Sept. 26) 
For all of us who can't quite figure out how to grow up, Keira Knightley stars as a 28-year-old theoretical grown-up who ditches her life to regress to something a little more stress-free. In the case of Laggies, that means turning her back on her own adult happenings to hang out with a bunch of teenagers, including Chloë Grace Moretz. The movie comes from director Lynn Shelton, who also made the extremely under-appreciated Your Sister's Sister.  
5. 'Gone Girl (Oct. 3) 
If you're keeping track of fall's most anticipated movies, this one certainly tops the list. Gone Girl is the movie adaptation of Gillian Flynn's bestselling novel about a wife who disappears and the subsequent media mania that surrounds her husband. Starring Ben Affleck and Rosamund Pike and directed by cult favorite David Fincher, the movie's current buzz is circling around Flynn's admission to Entertainment Weekly that the film's ending is entirely different than the novel. "This is a whole new third act!" she said. 
6. 'Men, Women & Children' (Oct. 3) 
Jason Reitman is known for zeitgeisty movies like Juno, and his latest project, Men, Women & Children, looks like it may just hit 2014 on the nose. Without a single word spoken, the trailer manages to make waves by showcasing just how lonely everyday people are, even while wrapped up in constant communication, or perhaps because of it. To top it all off, there's a killer cast: Ansel Elgort, Adam Sandler (playing Punch-Drunk Love levels of drama), Judy Greer, Emma Thompson, Jennifer Garner -- the list goes on. 
7. 'Whiplash' (Oct. 10) 
The trailer is enraging, but the buzz around Whiplash is strong. Whiplash in its original form was a short about a jazz drummer that won Sundance's 2013 Short Film Jury Prize for U.S. Fiction. Since then, it's been turned into the feature starring Miles Teller. The film's writer and director, Damien Chazelle, is a 29-year-old Hollywood wunderkind who has been on the media radar since his college days. His film Guy and Madeline on a Park Bench, made while still an undergrad, became a New York Times' critic's pick. Whiplash is an important watch for anyone keeping tabs on Hollywood's rising generation of greats. 
8. 'The Judge' (Oct. 10) 
Robert Downey, Jr., not in an Iron Man suit is reason enough to give The Judge a try. The plot is pretty appealing too, especially for anyone looking for their fall law drama. Downey plays a big-shot lawyer who returns to his hometown when his estranged father, a judge, is named as a murder suspect. The movie is directed by David Dobkin, who previously gave us Wedding Crashers. If this movie has even half the quotable lines Wedding Crashers did, not seeing The Judge will mean spending the next five years only understanding a fraction of the quote-riddled conversations happening around you. 
9. 'Dear White People' (Oct. 17) 
Hopes are high for Dear White People, an indie satire positioning itself to be one of the most important comedies of the year. The film, framed as a mockery of race relations in Hollywood, is really a full-on skewering of race relations in America. Writer and director Justin Simien is being heralded as someone to watch, and Variety praised the film for "ask[ing] some of the hard questions without pretending to know any of the answers," questions that only become more poignant and urgent as 2014 rolls on. 
10. 'Birdman' (Oct. 17) 
Birdman is slated to close the New York Film Festival, which means the powers that be have deemed it a finale-worthy film. It's a black comedy circling an over-the-hill actor, famous for playing a superhero, and his late-career struggle to mount a Broadway play. That over-the-hill actor is played by Michael Keaton who, as you remember, played Batman. Meta. Directed by Alejandro González Iñárritu, who has made lasting and interesting movies like Babel, 21 Grams, Biutiful and Amores Perros, the movie's compelling and vast A-list cast also includes Emma Stone, Edward Norton, Naomi Watts and Zach Galifianakis. 
11. 'Fury' (Oct. 17) 
It's the only film Brad Pitt is acting in this year, and it looks like he's put his heart and soul into it. Fury tells a World War II story about Allied soldiers attempting to survive behind enemy lines. Pitt is back to his Inglourious Basterds Nazi-killing ways, and director David Ayer has apparently done everything to make the visuals, setting and props as authentic as possible. With Ayer at the helm, expect a lot of violence a la Training Day and End of Watch. 
12. 'Camp X-Ray' (Oct. 17) 
The stills of star Kristen Stewart in her Guantanamo Bay fatigues have been enough to set headlines aflutter. In a move that takes her as far from Bella Swan as possible, Stewart plays a Gitmo soldier who disobeys orders and forms a friendship with a detainee. After a shaky debut at Sundance, it was unclear what would become of the film, but this morally ambiguous, politically questionable story is this year's high-stakes cinematic take on the war on terror. 
13. 'Nightcrawler' (Oct. 17) 
A Jake Gyllenhaal-driven thriller, the trailer for Nightcrawler trended for days, which gives a little glimpse of how popular this movie could be. Gyllenhaal's character finds himself in the world of freelance crime journalism, and the trailer shows an unsettling Gyllenhaal channeling Patrick Bateman levels of mania. The film is writer Dan Gilroy's directorial debut (he penned The Bourne Legacy) and, contrary to popular belief, has nothing to do with the Marvel character of the same name. 
14. 'White Bird in a Blizzard' (Oct. 24) 
Like Kristen Stewart, Shailene Woodley is deliberately steering herself toward a more grown-up cinematic future. After a year of YA fodder, White Bird in a Blizzard looks dark and gritty and R-rated in a way we're not used to seeing Woodley. Gregg Araki's film is an adaptation of the novel by Laura Kasischke, about a teenage girl whose mother disappears. It left Sundance with hit or miss reactions, but with all the buzz surrounding Woodley's ascent, it's worth seeing where this vehicle takes her. 
15. 'St. Vincent' (Oct. 24) 
According to the Toronto Film Festival, Sept. 5 is Bill Murray Day, and St. Vincent is the film around which that whole day was constructed. Murray plays a crotchety older man who takes on a babysitting job caring for the son of a new next door neighbor; life lessons and laughs ensue. The movie also costars Melissa McCarthy, which means high hopes for good comedy chemistry and charming quirk.
16. 'Interstellar' (Nov. 7) 
Another of this year's most anticipated, Interstellar has the poor luck of coming in the wake of Gravity but the great fortune of starring Matthew McConaughey, still firmly in the midst of his McConaissance glory. Directed by Christopher Nolan, it also has the bonus of the built-in Inception and Dark Knight crowd. The premise involves brave humans traveling through an intergalactic wormhole in an effort to save humanity. Big premise, big cast, big director and probably big box office numbers. 
17. 'The Theory of Everything' (Nov. 7) 
The Theory of Everything looks ready to be one of 2014's most heartbreaking works, chronicling the professional excellence and physical devolution of acclaimed physicist Stephen Hawking. The trailer gives a good glimpse of the story, and Eddie Redmayne, who plays Hawking, seems to capture the motor neuron disease that afflicts him with Oscar-nominee-worthy dedication. 
18. 'Foxcatcher' (Nov. 14) 
A wrestler psychodrama starring the unlikely pairing of Channing Tatum and Steve Carell was the film that surprised Cannes and earned Bennett Miller a Best Director prize. Tatum already has Oscar buzz, but the real attention is on Carrell. The Hollywood Reporter called Carell's performance "an astonishing and utterly unexpected serious turn." Of course, the film is also based on a disturbing true story, which makes it even more affecting. 
19. 'The Hunger Games: Mockingjay' (Nov. 21) 
The third installment in the franchise hardly needs any introduction, and if it follows in its predecessors' footsteps, it will make close to half a billion dollars. The movie, which stars Jennifer Lawrence, covers the first part of the book Mockingjay, which the movie franchise split into two films. In addition to all the Hunger Games regulars, Julianne Moore joins as President Alma Coin. The film also features Philip Seymour Hoffman in one of his last roles completed before his death. 
20. 'The Imitation Game' (Nov. 21)
Another World War II film, this one not taking place in the trenches. Alan Turing is the mathematician credited with cracking Germany's Enigma code during the war, and the film follows that journey as well as his subsequent prosecution for homosexuality. Benedict Cumberbatch plays Turing, which means built-in fan mania. The film also stars Keira Knightley and is an exciting gamble on new writer Graham Moore, penning his first feature. 
21. 'Wild' (Dec. 5)
Another best-seller turned mega-movie, this time we get a very natural Reese Witherspoon as Cheryl Strayed, a former heroin addict who treks 1,100 miles in pursuit of self-discovery and personal disaster recovery. The film is also director Jean-Marc Vallée's follow-up to Dallas Buyers Club, which gives it some intrinsic intrigue. This could very well be the film that gets the Oscar-winning Witherspoon out of her mediocre rom-com slump. 
22. 'Inherent Vice' (Dec. 12) 
Paul Thomas Anderson's Inherent Vice is under lock and key, but the few who have seen it are whispering the word "masterpiece." The film is based on the Thomas Pynchon novel about a drug addict detective investigating the disappearance of an ex. Anderson is the genius director behind There Will Be Blood and The Master, and his cast is filled with heavy-hitters including Josh Brolin, Reese Witherspoon, Benicio del Toro and Joaquin Phoenix. Inherent Vice will very likely be worth the wait. 
23. 'Exodus' (Dec. 12) 
Exodus already has would-be viewers furious about the whitewashed casting, but that likely won't keep it from being one of the year's most talked-about movies, for better or for worse. The biblical story (biblical in cinematic scope too) comes from Ridley Scott as he works to undo the memory of Robin Hood and get us back to the Gladiator glory days. Christian Bale, who has been everyone from Bruce Wayne to Irving Rosenfeld, gives it a go as Moses. 
24. 'Annie' (Dec. 19) 
The previews look schmaltzy, but when one of the world's most beloved musicals gets redone, it will definitely turn heads. The film has already gotten a good deal of attention for its decision to cast both Annie and Daddy Warbucks (this time called Benjamin Stacks) with black actors. Jay Z also serves as producer on the film, which adds yet another credit to his litany of "do no wrong." Will Smith joins the producer credits as well, basically ensuring that the Hov-Smith duo will produce, at the very least, a memorable soundtrack.
25. 'Into the Woods' (Dec. 25)
Another December musical, Into the Woods is a beloved Stephen Sondheim show being made into a movie for the first time. The story, a complicated and envelope-pushing melding of fairy tales and lessons, will likely draw die-hard Broadway fans as will as cinephiles. Directed by Rob Marshall, who has turned Broadway shows into exceptional films (Chicago) and not so exceptional films (Nine), the Anna Kendrick/Johnny Depp/Meryl Streep-filled cast will surely keep people talking and, so they hope, singing. 
26. 'Unbroken' (Dec. 25) 
Angelina Jolie's third time in the director's chair has her telling a story that has already captivated the world in both nonfiction and the news. The true story of Louis Zamperini, an Olympic gold medalist and then WWII POW, is depicted in a screenplay by the Coen brothers, based on the book by Laura Hillenbrand. The trailer is powerful, and casting a relative unknown (Jack O'Connell) in the role of Zamperini will lend the film even more power. 
27. 'The Interview' (Dec. 25) 
A full departure from the Oscar fodder coming out Christmas Day, Seth Rogen and James Franco are gifting the world with a comedy about an attempted assassination of Kim Jong-un. North Korea has already denounced the film, but the slacker power of the Rogen-Franco duo will likely pull the same devoted crowd who followed them to Pineapple Express and This Is the End. It's hard not to laugh. 
28. 'Big Eyes' (Dec. 25) 
We don't know much about Big Eyes, but what is known makes it rather intriguing. Focusing on the life of painter Margaret Keane (played by Amy Adams), famous for painting somewhat-creepy women and children with large eyes, the film is the latest from the king of creep himself, Tim Burton. What a Burton film will be without his muse Johnny Depp remains to be seen, but he's filled out his cast with impressive names like Christoph Waltz and Jason Schwartzman to make up for it. 
29. 'Selma' (Dec. 25) 
Very little has been released about Selma, a film starring Oprah Winfrey in the role of Anne Lee Cooper, a civil rights protestor, but we do know the film recounts the story of Dr. Martin Luther King, Jr., during the 1965 march from Selma to Montgomery, Ala. We also know the film is directed by Ava DuVernay and costars Cuba Gooding Jr., Common and David Oyelowo, among others. We're still waiting for trailer No. 1.
30. 'American Sniper' (Dec. 25) 
Clint Eastwood has an opportunity to redeem himself from the tragedy that was Jersey Boys with another 2014 directing credit, this time for American Sniper. The film focuses on Chris Kyle, a real Navy SEAL who racked up more than 150 kills, and is based off Kyle's autobiography of the same name. Bradley Cooper stars as Kyle and plays opposite Sienna Miller. All these Christmas Day releases are capitalizing on Oscar chances, and American Sniper is no exception. 
Correction: August 25, 2014 
A previous version of the article said Dear White People comes out on Oct. 27. The film comes out on Oct. 17.