The Aaliyah Biopic Is a Sad Example of Hollywood's Casting Racism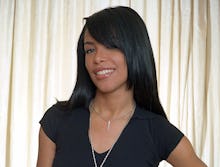 It's hard for black actresses to score any roles in a Hollywood film or TV production these days — unless they settle for parts that fit within standard media tropes of black women.
The predominately white-run industry gets even tougher to navigate if you're a dark-skinned black actress, a point perfectly illustrated by the recent casting controversy with Lifetime's upcoming Aaliyah biopic. In the case of this film, a race and skin-color problem is ongoing even while black artists are key leaders on the project.
The planned film about the R&B singer and budding actress, who died in an August 2001 plane crash, recently took an ugly turn for the worst, when a lighter-skinned black woman was cast to play Missy Elliot. The hip-hop superstar, a close friend and key influencer on Aaliyah's career, is markedly darker and fuller-figured than the woman who will portray her: Canadian singer and dancer Chattrisse Dolabaille.
Image Credit: Chattrisse Dolabaille via Twitter
Image Credit: AP
A similar outcry erupted due to the casting choice of Izaak Smith as rapper and record producer Timbaland. Again, the actor playing the role is lighter-skinned than the real-life person.
These casting choices, specifically the choice of Dolabaille, reflect what many have noted as the film industry's tendency to favor lighter-skinned black actreses at the expense of equally talented and darker-skinned black women — a race problem that arguably harks back to Eurocentric ideals of female beauty.
The issue itself dates back to early Hollywood, in days before the mainstream use of technicolor film. With only black and white images available for motion pictures, film houses were afforded some leeway in casting black actors, but only if they were light-skinned enough to "pass" as white to a mainstream American audience — a practice that has been extensively researched by scholars in television and film. To cast a darker-skinned black actress at the time would have sparked controversy, as racial integration was still on the horizon and nowhere close to becoming a reality.
Hollywood colorism benefited the careers of many legendary black actresses and singers like Dorothy Dandridge, Josephine Baker and Lena Horne, who is perhaps best known for her role in Stormy Weather. The film which indeed opened the door for African American film performers also highlighted the power of complexion. A power that indisputably lives on.
More recently, colorism plagued early casting reports about the Nina Simone biopic, when a much lighter-skinned Zoe Saldana won the role. Reports said that Saldana would require heavy cosmetic care to darken her skin tone for the camera, which some decried as a play on blackface.
Image Credit: SwoopsFilms via YouTube
(h/t Styleite)
Analyzing the questionable Nina Simone casting choice, queer Nigerian feminist writer and speaker Spectra acknowledged the backlash, but noted that members of the black community need to elevate the conversation beyond Hollywood gatekeepers and refocus back on the community's collective creative and economic power. 
"The fact that Zoe Saldana, another woman of color was getting a lot of backlash (via comments that suggested she was hijacking a role meant for black women, dismissing her self-identification as a Black Latina, not to mention personal attacks against her character etc.), was discouraging, to say the least," Spectra said. "It's one thing to criticize the white supremacist media machine that is Hollywood; it's another thing entirely for us to let that criticism distract us from seeing how that machine is designed to keep us fighting each other over scraps."
Spectra's view aligns with the thinking of notable black actresses in Hollywood today. As reported by Colorlines, Academy Award-nominated actress Viola Davis spoke in a 2013 interview on Oprah's Next Chapter and shared a very similar perspective about black women in Hollywood.
"We're in crisis mode ... Not in the sheer number of roles that are offered, but in the quality of roles," she said. "When you only have two or three categories for black actresses, it's a natural instinct. If you throw a piece of cheese into a room full of rats, they're going to claw at each other."
The casting choices for the Aaliyah biopic are an extension of this ongoing conversation, and a perpetuation of both the aforementioned colorism and the subsequent clawing. To add insult to injury, the film was already strained by recent changes in key production roles. Television talk show host Wendy Williams recently took over as executive producer, and the originally cast lead actress, Disney star Zendaya Coleman, dropped out of the project alleging an overall lack of professionalism and disregard for voiced reservations from Aaliyah's family.
Despite the cogs in the machine and the colorism controversy, production continues to progress. But the casting of the Missy Elliott role has raised issues with the film and the production yet again. Ultimately the choices made on this film are begging the question of whether or not Hollywood gatekeepers, as well as blacks in the industry, will create opportunities and lasting solutions that benefit black actresses of all shades.