If You're Sick of Iggy Azalea's 'Fancy' Already, You Need to Listen to This Song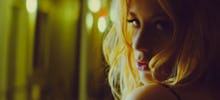 As summer wraps up, it's time to admit that Iggy Azalea and Charli XCX's "Fancy," which broke into Billboard chart history and clung to the No. 1 spot for seven consecutive weeks, is the song of the summer. 
But while we were forever languishing in the sticky heat and catchy hooks of "Fancy" on car radios, one pop star from the U.K. was igniting a different kind of fire. Ella Henderson's "Ghost" was the secret song of the summer.
"Ghost" really should have been this year's hottest summer song. Co-written with OneRepublic's Ryan Tedder, it has all the right mixings of a classic pop hit — most notably, its impossibly catchy anthemic hook ("I keep going to the river to pray"). Unlike "Fancy," Henderson forces emotion to the forefront, baring her soul over a writhing beat. She swoons around a darker, slightly sultry groove reminiscent of a more energized version of Sam Smith's "Stay With Me."
It's hard to believe, then, that Henderson hasn't yet achieved the same level of fame in the U.S. as Smith has. She's struck top-10 commercial success with "Ghost" in New Zealand, Poland, Belgium and Australia, and has even debuted at No. 1 in both the U.K. and Ireland. What's even harder to believe is that Henderson is only 18; she got her first big break as a runner-up on Britain's famed star-making reality TV show The X Factor when she was 16. During her first round of auditions, Henderson performed a heartfelt original song, completely flooring the audience and judges. "Whoever or whatever you wrote that song about, those words, I'm sure, hit a chord with everyone," said guest judge Mel B after her performance. "Your songwriting's so clever, it made me go into my own little world and go, 'Oh my god, I felt like that at one point.' That's hard to do as a songwriter."
"Ghost" proved that skill to the world. Amidst the stuffy and sweltering fame of "Fancy," Henderson's summery anthem offers the cool breath of fresh air. She may not have won the song of the summer title, but she'll be here come fall — and for a long while after that.