13 Incredible Instagrammers Every Dance Lover Should Follow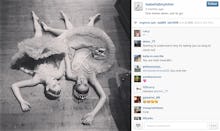 Huge leaps. Strong lines. Trained physicality. Blistered feet. Instagram is filled with dancers and dance enthusiasts sharing their unique perspectives and photos of this beautiful, challenging art form. 
The juxtaposition of athleticism and artistry, elegance and strength, makes dance a compelling subject for photography. Instagram allows the viewer to step behind the curtain of traditional dance photos and see the inner workings of the art, past the polish and into the training, the devotion and the lifestyle of these artist-athletes.
Below are 13 Instagram feeds to follow for this inside look. From ballerinas en pointe in unexpected locations to young dancers expressing their artistic vision, these are a few of the very best.
1. @isabellaboylston
As of this July, Isabella Boylston, @isabellaboylston, is the principal dancer at American Ballet Theatre, one of the world's great classical ballet companies.
Boylston's Instagram feed includes images of backstage and training, but also features personal and editorial shots. Her phenomenal talent is clear, but so is her genuine excitement for dance. The pictures she shares feel humble, funny, personal and, of all things, approachable. 
2. @lilbuckdalegend
Contemporary dancer Charles "Lil Buck" Riley, @lilbuckdalegend, considers himself the "ambassador of [dance style] 'Memphis jookin.'" Lil Buck achieved widespread notoriety after a stunning performance of "The Dying Swan," in collaboration with Yo-Yo Ma and filmed by Spike Jonze, went viral. More recently, he co-choreographed Janelle Monae's music video for "Tightrope" and collaborated with famed street artist JR on a photo series.
His Instagram feed is a clever, impressive insight into his life and career. Follow and watch his star rise. 
3. @marthagrahamdance
The official account for the Martha Graham Dance Company, @marthagrahamdance, provides remarkable access to one of the premier modern dance companies in the world. Martha Graham was a trailblazing modern dancer, and the eponymous company carries the torch of her legacy.
This Instagram account showcases the training, photoshoots and travels of its dancers. It's not directly promotional, and tends instead to focus on the dancers individually, rather than the company's performances. Keep an eye out especially for the videos of the dancers in the studio.
4. @drewjacoby
Drew Jacoby, @drewjacoby, is a very cool, very polished contemporary ballet dancer and choreographer. Unlike the other classical ballerinas listed here, Jacoby doesn't dance en pointe or in tutus — she's more likely to be seen in all black with red lipstick. If her digital presence is any indication, she also seems to have those enviable Alexa Chung-esque cool girl vibes. 
Follow her for access to her globe-trotting adventures, her from-the-studio videos and incredible high-contrast performance stills.
5. @nainipea
Nayantara Kurma Parpia, @nainipea, is a Kathak dancer and lifestyle blogger from Singapore. Kathak is one of the eight classical Indian dance forms, and it emphasizes the role of storytelling in the dance performance. When she's not posting about food and fitness, Parpia is posting performance and studio shots.
If you're looking for a combination of food-porn smoothies and insights into Kathak dance culture, @nainipea is your girl. 
6. @shellylove7
Rachelle Di Stasio, @shellylove7, is a ballerina with the ABT Studio Company, which is affiliated with the American Ballet Theatre; its goal is to train young dancers (age 16-20) who show great potential.
While Di Stasio's Instagram feed showcases some incredible fashion editorials and photoshoots, the most compelling photographs are the ones of her backstage and in the studio. In these, her passion, talent and future are crystal clear. 
7. @vhamamoto
Vitor Hamamoto, @vhamamoto, is a Brazilian b-boy dancer and photographer. Also called breakdancing and breaking, b-boying (or b-girling) is a popular style of contemporary dance that features strong acrobatic movements and freezes.
Hamamoto's Instagram feed showcases his photography and dance practices. He shows a particular affinity for unusual perspectives and almost spiritual balance in both.
8. @tear27
Sebastien Marcovici, @tear27, is the former principal dancer with the New York City Ballet and the current Ballet Master at the L.A. Dance Project. As a highly accomplished dancer himself, his perspectives on the future of dance are particularly interesting. 
While many of his Instagrams focus on his life as a dance mentor, many other are simply well-crafted images of his life (think fluffy dogs and supermoon shots). It's a healthy, happy combination.
9. @rockadeezy
RJ "Rockadile" Puno, @rockadeezy, is a member of Super Cr3w, a dance crew that specializes in b-boying. His style of dance is very crisp, and seems designed to surprise and amaze.
Puno's Instagram feed is one of the most innovative on the list. He uses the medium in a way that is conscious of its benefits and limitations. His popular #freezeoftheday series is a perfect example of that awareness. Definitely follow.
10. @jonboogz
Jon Boogz, @jonboogz, is a member of the illustrious dance group Control Freakz. The group recently performed on So You Think You Can Dance. He specializes in popping/locking.
For dancers and performing artists, the video feature on Instagram is a valuable tool. That's expecially true for Boogz's feed. To really get a sense for his style, you need to watch the videos (the one of him dancing with his mom is priceless).
11. @jedrzejx
Jedrzej Bada$$, @jedrzejx, is a Polish breakdancer and member of the Szersza Akcja crew. His dance style is simultaneously elegant and aggressive, and he seems to love interacting with his urban environment in his performances.
Though he's only been on Instagram for a little under a year, his photographs are gorgeously captivating. His photos have some of the quality of skateboard photography — low to the ground and high saturation. For insight into the global street dance culture, keep an eye on him.
12. @balletboyz
BalletBoyz, @balletboys, is an award-winning all-male ballet company based in Kingston upon Thames, England. The company is a registered charity, and is supported by independent donations and national funding. This spectacular company is redefining partnering in ballet, one performance at a time.
The BalletBoyz company's Instagram photos are more dramatic, emotionally charged and atmospheric than many of the other accounts', reflecting a high-level private dance company with a unique approach and vision.
13. @rubberlegz
Kurdish dancer Rauf Yasit, @rubberlegz, is another breakdancer, but with a twist: He's also a contortionist. His dance style is a fusion of yoga and b-boying, emphasizing flexibility rather than acrobatics. Although based in Berlin, he's currently travelling across Europe on tour with his troupe, the Flying Steps.
His Instagram photographs are almost exclusively b-boy freezes in mind- and body-bending positions. Check it out, and be amazed by what a body can do.