Your Next Big Netflix Binge: This Ridiculous, Star-Studded Cartoon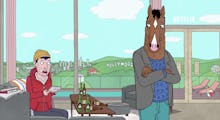 Cartoon fans can rejoice over Netflix's first animated series — BoJack Horseman. The show stars Will Arnett as the voice of a former sitcom talking horse who's hit some very rough times.
The series premiered on Friday, Aug. 22 with all 12 half-hour episodes hitting Netflix servers simultaneously. While Arnett plays the title titular horse, other all-star talent like Amy Sedaris, Paul F. Tompkins, Aaron Paul and Alison Brie are all signed on for various roles. Guest stars are expected to include Patton Oswalt, Stanley Tucci, Melissa Leo, Wendie Malick and Keith Olbermann. Apparently Netflix really wants this show to succeed.
Here's the official synopsis:
Meet the most beloved sitcom horse of the '90s … 20 years later. Set in an L.A. where humans and anthropomorphic animal-people coexist, "BoJack Horseman" is about one man (well, horse-man) who peaked too early and must figure out what to do next.
You can also watch the faux-trailer for Horsin' Around below: 
As well as an interview:
BoJack's Geocities-style website is also up, complete with deliberately annoying auto-looping of its theme song.
Arnett told USA Today that the series would focus on the false promise of the Hollywood lifestyle, but wouldn't be too insular. "It's more like what happens when you live in a world where everyone always says yes to you, and all of a sudden that world ceases to exist ... We're obsessed with celebrity. Anything to do with that world is considered breaking news."
Creator Raphael Bob-Waksberg, who worked on NBC's Save Me, added that the show would be themed around BoJack's "really sad, depressed character" and said the Netflix streaming format allowed his team the space to flesh out a developed storyline.
So far the reviews have been mixed (the A.V. Club gives it a C+), but animated series usually take some time to settle into a groove. Uproxx's Ashley Burns notes that the now nearly universally-beloved Archer started out with somewhat average reviews. Animation fans will doubtless enjoy the prospect of another show, even if it's below House of Cards standards, and at the very least it will help soothe the urge for something new between Aventure Time's 7th season wrap up and new seasons of Rick and Morty and The Venture Bros.