This Badass Girl Fixed a Glaring Ommission on One Store's 'Guardians of the Galaxy' Shirts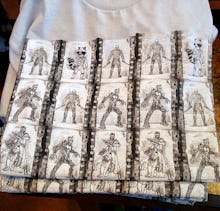 Geek With Curves/Amy Ratcliffe
Guardians of the Galaxy, Marvel's latest comic movie entry, has been setting all kinds of records. 
Despite being based on a little-known existing property, it has the highest-grossing August debut in box office history ($94 million), its soundtrack has enjoyed the No. 1 spot on the Billboard 200 for two straight weeks, and it marks the first time that the studio has credited a female writer. Enjoying both widespread critical acclaim and viral buzz, the movie has been an unqualified success by every standard.
But the movie's merchandising is another matter.
As many frustrated fans have pointed out online, much of the official Guardians of the Galaxy merchandise leaves out Gamora, one of the movie's five titular Guardians, played by Zoe Saldana. Though Gamora has an equal amount of screen time as her male colleagues, and Saldana is second-billed after Chris Pratt, Gamora is mysteriously absent in some egregious ways:
People are mad, but are getting creative. Confused fans are demanding answers about Marvel's exclusion of Gamora — but as Twitter user @kristenrapp found out, Marvel and its partner retailers have offered less-than-satisfactory explanations.
Gamora is a green-skinned alien assassin with the moniker "the deadliest woman in the whole galaxy." Both boys and girls can and should admire her badassery. But apparently for Marvel's and The Children's Place's standards, that's not impressive enough.And that means that if you are a young girl who happens to love comic books and movies, you have to resort to arts and crafts to see your favorite superhero represented on a T-shirt -- as this woman's daughter did:
Unfortunately, this is nothing new. Disney -- Marvel's parent company -- is no stranger to merchandising controversies. Critics have long accused the princess-making corporation of enforcing beauty standards and propagating gender norms. But when it comes to Marvel products, Disney's marketing strategy has been particularly outdated.
As the Daily Dot's Gavia Baker-Whitelaw pointed out earlier this month, the superhero arm of the media giant has not done a great job capitalizing on girls' interest in Marvel heroes. "First, the Disney Store only stocked girls' Avengers shirts with bizarrely sexist slogans like 'I Need A Hero,' while boys' shirts read 'Be A Hero.' To make matters worse, all of the male Avengers got their own shirts, while Black Widow was mysteriously left out," Baker-Whitelaw wrote. "This all seems like an uncharacteristic commercial failure on the part of Disney, which is usually very good at squeezing every last dollar out of its audience."
That Guardians of the Galaxy's audience was nearly half female means that not only is Disney and Marvel's merchandising policy inexplicably outdated, but that it's also harmful to the company. It's a good sign when people like your movie and want to spend money buying merchandise; it's a bad sign when they can't give you money that they really want to give you. If Disney included Gamora on the merchandise of the movie that she stars in, then perhaps little girls and their parents could just buy from the company instead of having to resort to creative DYI.