Science Explains Why We Like Old Music Better Than Everything Else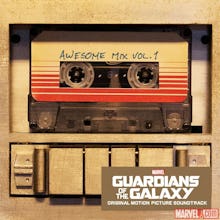 The most popular album in America is a fictional mixtape of songs from the 1970s, assembled by an intergalactic vagabond.
The Guardians of the Galaxy: Awesome Mix Vol. 1 soundtrack has held the No. 1 spot on the Billboard charts for two straight weeks since the film's release. Soundtracks as a whole have been doing great this summer with Frozen sitting atop the Billboard 100 for 13 weeks, but there's something even odder about Guardians of the Galaxy's soundtrack: Every recording was made over 50 years ago. People in America have collectively voiced what hipsters are always saying: Old music is better than new.
In recent years, old music has sold better than new. There's a psychological reason for it:  Familiar music actually feels better to audiences.
In numerous scientific experiments, researchers have shown that subjects are much more likely to report positive feelings from a given piece of music if they've heard it before. Songs score even higher marks if they can trigger a specific, storied memory — like a late summer night spent driving around with "Fooled Around and Fell in Love" on the radio. Familiar music is also a much more reliable way for people to induce good moods in themselves — in fact, the emotional centers of the brain are more active when one listens to familiar music.
It makes perfect sense, then, that Guardians of the Galaxy is climbing the charts (spoilers ahead). This mixtape of golden oldies is constantly on Star Lord's person in the film — he listens to it at the most heightened emotional moments in the film — to cheer himself up, to pump himself up, to get himself ready for romance. That's because it reminds him of his home planet and of his mother — the familiarity of the music gives it special emotional resonance.
It doesn't take a scientist to realize that, though — musicians have known it forever.
"There's no way you can compete with your early records as they've resonated with people because they have time to seep into people's lives," Jeff Tweedy of Wilco said in 2011. "A new record is immediate, and something immediate will never have the same set of emotions as something that's been able to accumulate emotions over a long period of time."
So the next time someone claims that old music is objectively better than new music, remember that there is nothing objective about musical quality. We judge musical quality by our own personal contexts — we invest it with the meaning of our life and our present emotional needs. And right now it makes sense that we needed a bit of '70s soft rock.
It's been a brutal summer for the world — Ferguson, ISIS, Palestine, Ukraine and the Ebola outbreak among other stories have hung heavy in the media. There also haven't been any mainstream pop songs this summer really to address the anxiety that has marked the season. Marvin Gaye's "Ain't No Mountain High Enough," Norman Greenbaum's "Spirit In The Sky" and "O-o-h Child" by the Five Stairsteps are definitely more suited to uplift and heal than Iggy's "Fancy" or Nicki Minaj's "Anaconda." Her booty may do wonders, but it can't heal like a song that's been there for you for decades.