The U.S. Tried to Rescue Murdered Journalist James Foley Earlier This Year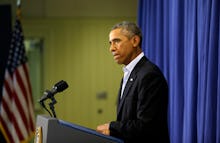 In the wake of photojournalist James Foley's execution at the hands of Islamic State militants, details are beginning to emerge of the extent to which the U.S. knew about Foley's kidnapping -- and what it did in response.
President Barack Obama approved a special forces raid in Syria to rescue Foley and other captives earlier this summer, according to the New York Times. The U.S. reportedly obtained intelligence that the prisoners were being held at an oil refinery in northern Syria.
The two dozen Delta Force commandos were unsuccessful, though -- they found no captives at the refinery. The soldiers may have missed them by "a matter of hours, perhaps a day or two," a Defense Department official told the Times. The team got into a firefight with militants before being airlifted to safety.
"We're not sure why they were moved," the official said, according to the Times. "By the time we got there, it was too late."
Hostage demands: That revelation sheds new light on the news Wednesday that the U.S. knew about Foley's status before his execution. New details have emerged that IS even passed along ransom demands that the country refused to pay.
The head of GlobalPost, the online news outlet that employed Foley, told the Wall Street Journal that IS demanded 100 million euro. A representative from the Foley family told the Times the figure was $100 million.
Whatever the denomination, that's not all they wanted. The Times reported that IS also had a list of demands that included prisoner transfers. And the video execution of Foley came with further threats -- IS threatened to kill Steven Sotloff, another captured journalist, saying, "The life of this American citizen, Obama, depends on your next decision."
What happens next: The U.S. has steadfastly refused to pay money in exchange for hostages, a sentiment shared by Britain, which also has citizens held by IS. Other European countries have paid up for hostages in the past, with a New York Times investigation finding that al-Qaida and its affiliates have made more than $125 million in the past five years by kidnapping Europeans.
Meanwhile, the White House has said that air strikes against IS will continue despite Foley's execution. The strikes have allowed Iraqi and Kurdish forces to regain ground in Iraq, with the latter retaking the country's strategically important largest dam over the weekend.
"[IS militants] have rampaged across cities and villages, killing innocent unarmed civilians in acts of cowardly violence," Obama said in a statement Wednesday. "No just God would stand for what they did yesterday and what they do every single day."