Rand Paul Takes Bold Stand on Medical Marijuana: Protect Its Users from Federal Law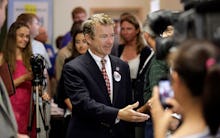 This is what proponents of marijuana legalization have been waiting for. 
The news: Sen. Rand Paul (R-Ky.) filed an amendment to protect users and purveyors of medical marijuana from federal law on July 24.
If approved, doctors, patients and growers in states where medical marijuana is legal will not be arrested and prosecuted by federal authorities for marijuana possession, cultivation or distribution, as reported by the Huffington Post. Currently, anyone in the U.S. can be imprisoned for up to three years for simple possession. Those growing or selling it can be imprisoned for life.
This could be a huge for marijuana legalization. Right now, using marijuana in a state with legal marijuana, medical marijuana, or lowered penalties for marijuana use can lead to arrest for violating federal law.
This law would eliminate the incongruence between state and federal protocols surrounding marijuana. Even as states like Colorado and Washington implement recreational sales, and states like Oregon and Alaska prepare to vote on full legalization, the Federal Government remains firm in its anti-marijuana stance. While the Federal government has hinted at the idea of supporting state-level legalization and laying off on the arrests, they have done little to nothing effectual about it.
Why it matters: Despite the wave of state-level legalization, federal forces continue to raid and prosecute harmless medical marijuana outfits. In March, the House of Representatives voted to block the DEA from targeting medical marijuana operations, but the measure is still pending Senate and joint committee approval, leaving state-level medical marijuana communities vulnerable. Paul's amendment could finally nail down the rule — the federal government can't mess with state-level legalization.