Thank You, San Francisco, For Breaking Yet Another LGBT Barrier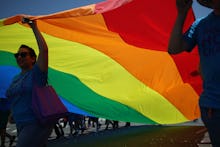 The news: At least one police department in America is doing it right.
The most recent class of recruits out of the San Francisco Police Academy graduated on Friday, and among them was Mikayla Connell, an officer who holds a special title: the department's first transgender officer to enter and graduate from the academy.
Image Credit: KTVU 
Connell's appointment is part of a long battle. She first applied to be an officer 20 years ago, but "was a little immature back then," she told KTVU.
Among other things that were different "back then" were attitudes toward her transition. "There's literally been a sea change in the way, at least this state and maybe the country, views LGBT people and transgender people," she said.
Her classmates also elected her as class president, and she received two awards at graduation for excellent academic performance at the academy.
It's a historic moment for the trans community. Connell is special because she's the first recruit to both enter and graduate from the academy. Although there are other out trans officers on the force, the number of out LGBT officers nationwide remains low. "There aren't that many transgender police officers, either female-to-male or male-to-female," she told KTVU.
The San Francisco Police Department has, for its part, attempted to bridge the gap. In 2012, for example, they released a video for the "It Gets Better" campaign, which aimed to end the bullying of young LGBT people.
Still, the police community could use a leader like Connell. A few recent high-profile incidents involving trans people - officers and civilians alike - paint a discouraging portrait of police forces across the country.
In Middletown, Conn., a trans officer filed a human rights complaint alleging her department created a hostile work environment. In New Jersey, two people filed a lawsuit against officers because of alleged discrimination and harassment they faced because of their gender identities.
Having previously served as the board president of the San Francisco LGBT Pride Celebration Committee and chair of the board of directors for the Transgender Law Center, Connell is in an excellent position to help facilitate understanding between the police and trans communities.
For now, though, we can simply help her celebrate. She's achieved something nobody else has, and everybody is proud. "I got literally nothing but love and acceptance from my classmates," she told KTVU.
As SFist notes, Connell and her classmates recently started field training, which means she'll be in uniform soon enough. She knows what's riding on it: "It means you can't screw up!" she said, speaking of her new role. "Because you can't ruin it for everyone else coming behind you."
h/t KTVU