Clothing Companies Know You're Wearing Workout Clothes Without Exercising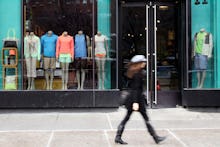 Do you do yoga in your yoga pants? Play basketball in your basketball shorts? If your answer is no, you're -- well, you're just like everyone else.
We are entering a new age of workout clothes, according to the Wall Street Journal, and it's one that doesn't necessitate the pesky "working out" part of wearing them. While the athletic apparel industry grows into a lycra-laden monstrosity, American participation in many sports is dwindling.
The numbers: Barclays analysts predict athletic apparel sales will reach more than $100 billion in 2020, a 50% increase from today, according to the Wall Street Journal. That's thanks in large part to what those in the industry call "athleisure," which you might need a marketing degree to say without throwing up in your mouth a little bit.
The idea behind athleisure is that athletic attire is a comfortable, often relatively inexpensive alternative to boring normal clothes. Why wear normal shoes to work if you can get away with sneakers?
A perfect example is the yoga industry. A Sports & Fitness Industry Association found that participation in yoga participation grew by 4.5% in 2013. Sales of yoga apparel, meanwhile, jumped up 45%. As one yoga studio owner put in her brochure: "Do you wear yoga pants? Why not try yoga?"
Corporate shift: Companies like Dick's Sporting Goods, Quiksilver and Under Armour are shifting their business plans to make room for this growing group of customers. Dick's is hoping that athleisure products can make up for losses in its golf and hunting departments, while the extreme sports-focused Quiksilver is instead emphasizing clothes that are "functional and fashionable," the Wall Street Journal says.
Under Armour is even moving slightly away from its hypermasculine image to make room for casual athletic apparel for men, women and kids. The president of Under Armour North America told the Wall Street Journal that customers now want to "look great everywhere, in the gym, on the street, in class."
After all, what good is protecting this house if you can't lounge around in it too?