This Badass Teenage Girl Is the Reason Women Were Banned From Professional Baseball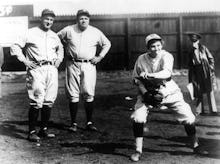 A 13-year-old pitcher with waist-length braids from South Philadelphia has captured imaginations nationwide over the past week. And why not? Mo'ne Davis became the first girl to pitch a shutout in the Little League World Series and the youngest ever person to appear on the cover of Sports Illustrated, approaching her craft with a preternatural maturity and cool.
The exceptional nature of Davis' story has laid bare a peculiarity of the national pastime that often hides in plain sight. Namely, why do so few young women play baseball? Time writer Sean Gregory probed the phenomenon, noting that 100,000 girls play youth baseball yet only 1,259 played at the high-school level during the 2012-13 academic year, with the vast majority transitioning to softball. Scott Cacciola of The New York Times spoke with doctors who suggested Davis' physical development -- which begins earlier for girls than boys -- offers an advantage today that will prove short-lived. ("It's not really about what she isn't going to be able to do," one sports physician told the Times. "It's what the boys start doing.") 
But when it comes to why women were formally prohibited from playing Major League Baseball, you have to travel back 83 years to a teenage southpaw from Chattanooga, Tenn., named Jackie Mitchell.
Virne Beatrice "Jackie" Mitchell Gilbert was a precocious tomboy who grew up next to future Hall of Fame pitcher Dazzy Vance, from whom she learned how to throw a devastating sinking curveball that dropped sharply just before reaching the plate. By 16, Mitchell was a standout pitcher for a local women's league, where she caught the eye of Joe Engel, owner of the minor-league Chattanooga Lookouts.
Engel signed Mitchell to a one-year contract with the Class AA club on Mar. 28, 1931 -- not least because the New York Yankees were visiting for an exhibition on the commute back from spring training and the promotionally savvy owner hoped to juice the gate. By all accounts it worked, with a reported crowd of 4,000 turning up at Engel Stadium for a chance to see the local team -- and newly signed female phenom -- opposite the perennial World Series contenders.
Mitchell started on the bench, but when starting pitcher Clyde Barfoot allowed a double and a single to open the game, the 17-year-old lefty was summoned from the bullpen to face Babe Ruth. A Smithsonian magazine story recounts what happened next.
First up was Ruth, who tipped his hat at the girl on the mound "and assumed an easy batting stance," a reporter wrote. Mitchell went into her motion, winding her left arm "as if she were turning a coffee grinder." Then, with a side-armed delivery, she threw her trademark sinker (a pitch known then as "the drop"). Ruth let it pass for a ball. At Mitchell's second offering, Ruth "swung and missed the ball by a foot." He missed the next one, too, and asked the umpire to inspect the ball. Then, with the count 1-2, Ruth watched as Mitchell's pitch caught the outside corner for a called strike three. Flinging his bat down in disgust, he retreated to the dugout.
With just seven pitches, the lean left-hander had humbled the core of the Yankees' famed Murderers' Row lineup: two of the greatest hitters to ever lace up a pair of spikes. Unsurprisingly, the wire story was disseminated nationally and made headlines throughout the country.
"The prospect grows gloomier for misogynists," stated a New York Times op-ed that ran two days later. "Cynics may contend that on the diamond as elsewhere it is place aux dames. Perhaps Miss Jackie hasn't quite enough on the ball yet to bewilder Ruth and Gehrig in a serious game. But there are no such sluggers in the Southern Association, and she may win laurels this season which cannot be ascribed to mere gallantry."
Major League Baseball's response was swift and comprehensive. Within days, commissioner Kenesaw Mountain Landis voided Mitchell's contract with the Lookouts, dismissing it as a farce and stating the game was "too strenuous" for a woman. Female players were formally barred from signing professional contracts on June 21, 1952 -- a ban that stood for 40 years. Whether the Yankee sluggers were complicit in a "work" has been subject to speculation for decades, but one look at Ruth's firing his bat to the dirt in anger suggests any conspiracy theory boils down to male ego-stroking.
Mitchell's story lives on -- it was nearly adapted for Hollywood (with LeAnn Rimes attached to star) and inspired parts of the interactive graphic novel Bottom of the Ninth -- but in many ways has been relegated to the sepia-toned realm of baseball esoterica.
It's no bother for Davis, who may as well sidestep the dodgy gender politics of baseball altogether: The rising eighth-grader said she'll probably be the the first woman to play in the NBA.