One Group Is Lobbying Hard to Keep Military Gear in Police Hands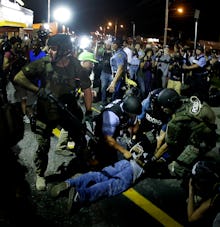 The police response to protesters in Ferguson has led many around the country to push for decreased militarization of law enforcement. There's one group, though, that's lobbying hard in the other direction.
The Daily Beast chatted this week with the National Tactical Officers Association (NTOA), the lobbying group that represents 1,600 SWAT teams. While most of us saw dangerous and unnecessary equipment in Ferguson, they saw a backlash that might cost them funding and gear.
The pleas: "The police have to be one step ahead of the criminal element, have to be prepared for the worst-case scenario," NTOA Executive Director Mark Lomax told the Daily Beast. "You don't want a community to be taken over by one or many criminals."
One of the "steps ahead of the criminal element" that has been loudly chastised is the Mine Resistant Ambush Protected vehicle, or MRAP. These vehicles are designed to withstand huge IED blasts in war zones. Huge armored trucks can't be necessary in small-town America, right?
Jon Adler, the national president of the Federal Law Enforcement Officers Association, defended MRAPs to the Daily Beast. "Police officers are human and bleed like everyone else," he said. "They deserve the best protection from violent assaults, and providing them with MRAPs or advanced body armor minimizes their exposure to serious injury or death."
That's true! Super-armored trucks make you harder to kill. But that mindset is what leads to Call of Duty cops squaring off against nonviolent protesters in Ferguson. When you've got a mine-resistant vehicle, your city starts looking like it's covered in mines.
Congressional action: The NTOA made its case in an email sent to legislative staffers in Congress. It's part of an attempt to head off bills in the works that would limit police access to military equipment.
Rep. Hank Johnson (D-Ga.) is drafting legislation to get rid of the program that allows weapons and other equipment to be passed from the Pentagon to police forces. Senate Armed Services Chair Carl Levin (D-Mich.) "will review" the program.
The action isn't just happening on the Democratic side of the aisle either. Sen. Rand Paul (R-Ky.), a potential 2016 presidential candidate, wrote a forceful op-ed in Time calling for police demilitarization. House Republicans are also considering defunding the program, according to the Daily Beast.
In short, it's not looking good for the SWAT lobby. Ironically, it seems like the best way for police forces to keep their toys is to avoid using them.
h/t: The Daily Beast