Female Firefighter Harassed After Complaining About Porn in Workplace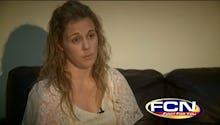 FIRSTCOASTNEWS.COM
The news: There are some indisputable, always-in-effect rules of conduct in the workplace: no stealing food or supplies, no harassment of any kind and no watching porn.
Unfortunately, as one Florida firefighter found out, people shirk the last rule. And now she's paying the price for speaking out.
On Thursday, Think Progress detailed the story of Lieutenant Candice Buckner, a Jacksonville firefighter who filed a complaint to her bosses in 2012 about the "volume of sexually explicit and pornographic materials, and inappropriate behaviors, in the fire station."
As the only one woman on the shift — and one of only two women at the entire station  — she felt uncomfortable with the open consumption of pornography and lewd language and behavior at her workplace. But not only did her higher-ups refuse to intervene, her complaint also triggered physical and verbal harassment from her male colleagues:
"The situation deteriorated from there, with coworkers trying to freeze Buckner out by not speaking to her at all, referring to her as a 'crazy bitch' and 'piece of p--' among themselves, telling other men in the house to stick to the same story denying the harassment had occurred if department higher-ups asked about it, and nitpicking her uniform and work performance in ways that 'no other personnel were subjected to,' the suit alleges.
Unfortunately, stories like Buckner's are all too common. While Buckner is following through with a lawsuit, many other women who face harassment at work feel too intimidated to speak up. According to a 2011 Washington Post/ABC News poll, a quarter of American women reported being harassed at work. But among those women, nearly 60% said they never reported the incident: "Asked why, 29% said they didn't think it was sufficiently important, 22% said they were concerned about the consequences and 19% said they didn't think it would do any good," the report added.
Even in the era of Lean In, American women are still having a hard time demanding basic rights at a workplace — and it takes stories like Buckner's to remind us how much progress still needs to be made.
h/t: Think Progress