Congressional Candidate Mails an Epic Response to Pro-Life Critics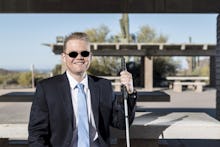 The news: As the classic saying goes, if you can't fight them, send them a condom.
At least that's the philosophy behind the James Woods for Congress campaign, which has been responding to pro-life proponents with choice gifts (and no, not actor James Woods). According to the Phoenix New Times, the Democratic congressional candidate turned some heads this week when his office received a request to sign a pro-life pledge — and decided to send back some official campaign merchandise:
As well as the following letter:
Woods is as unique a political candidate as you can get. Back in April, the sight-impaired Woods launched a campaign free of "ideology, revelation or religion" — should he succeed, he would be the only openly atheist lawmaker serving in the U.S. Congress.
For now, Woods is facing tough odds: He will be challenging incumbent Republican Congressman Matt Salmon in a rather conservative district. But if you are interested in donating to his campaign, you too can get your hands on official James Woods for Congress condoms for any contribution: "Condoms save lives, prevent unintended pregnancies and defend against STIs. Stand with James Woods for Congress in promoting sexually healthy and responsible communities!" the site reads.
Yup, you definitely don't see that everyday on a politician's official campaign website.