Watch Mitt Romney Take the Ice Bucket Challenge With a Little Help From Paul Ryan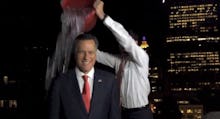 Mitt Romney sacrificed his perfect hair for a good cause last night, becoming the latest politician to take part in the ALS Ice Bucket Challenge. 
The 2012 Republican presidential nominee took to a rooftop with his old running mate Rep. Paul Ryan (R-Wisc.), who dutifully dumped a bucket of cold water on Romney's head. 
We suspect Ryan may have wanted to do this for some time.
Romney says he was challenged by Meg Whitman, Rob Portman and Creighton Rider to partake in the challenge, and noted he would also be making a donation to the ALS Association. He passed on the challenge to his wife Ann and actor Jason Sudeikis, for some reason.
You can watch the whole thing here: