6 Fantastic Shows the Emmys Forgot, But Deserve Our Recognition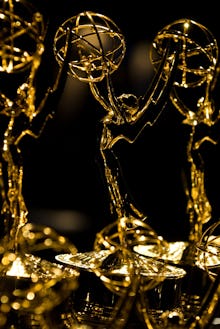 The 66th Primetime Emmy Awards air Monday (8 p.m. on NBC) and, as usual, we've got a bone to pick with some of the shows nominated. More specifically, we're concerned with a few shows conspicuously absent from the list of nominees. 
While the Emmys crew have tapped a number of impressive and deserving shows — we can't argue that True Detective, Orange is the New Black, Game of Thrones and Breaking Bad are worthy of the title of "Outstanding" for a number of categories — we thought we'd pay tribute to six excellent shows that got the snub. None of these dramas, comedies or thrillers will be bringing home any big awards Monday night, nor will their excellent leads, but they're shows you should be watching. We are. 
1. The Mindy Project
Mindy Kaling's excellent Fox comedy might be the Arrested Development of the 2010s. Almost universally beloved (seriously, have you ever heard anyone say they don't think it's great?) the series remains confoundingly low-rated. 
Kaling's Dr. Mindy Lahiri is the Mary Tyler Moore of our generation: A quirky, single woman in her 30s taking on the world one hilarious mishap at a time. The show consistently hits all its comedic beats, breathing new life into what could have amounted to little more than a new take on a worn premise, and Kaling's supporting cast are all equally hilarious. 
While The Mindy Project has received awards recognizing its excellence in comedy from the likes of the TCAs and the Critics Choice Awards, the Emmys have yet to recognize the series at all. The Emmys are like the unattainable hot guy Dr. Lahiri would spend a frantic, sweaty episode trying to impress only to end up eating a vending machine dinner in a broom closet with Danny Castellano. 
It's OK Mindy, Danny loves you, and so do we.
2. The Walking Dead
AMC's post-apocalyptic comic book adaptation about the staggering hordes of the undead and the motley crew of humans left alive to fend them off has had its share of fits and starts. Still, The Walking Dead is generally held as a darling by fanboys (and girls) of the genre, and there's no denying that it has hit its stride of late. And, unlike The Mindy Project, its ratings are off the charts. 
Furthermore, who could have predicted that Norman Reedus would become the breakout star of 2014? Certainly not the folks in charge of handing out the Emmy nods. 
The Emmys threw the show two tiny bones, with nominations for Outstanding Sound Editing and Outstanding Special and Visual Effects in a Supporting Role (it already lost to Starz's Black Sails). Two measly nominations? That's hardly enough for one zombie to gnaw on. 
3. Orphan Black
Here is something, it seems, that sci-fi lovers, television critics and virtually everyone else in the free world can agree upon: Orphan Black is one of the most exciting and inventive shows on the 'tube right now. Further, Tatiana Maslany, who takes on an assortment of roles as the show progresses and more clones are revealed, deserves some serious recognition. And she's gotten it -- just never from the Emmys. 
Both Maslany and BBC's hit, which grapples with very real questions of identity and morality under the deceptively simple guise of a sci-fi show, have received recognition time and again from critics, bloggers and fans (apparently a lot of people at Comic-Con were fairly apoplectic over the snub), but the omnipotent people of the Emmys have remained unmoved. We wish we could clone the number of spots available for Outstanding Drama nods, and make some room for Orphan.
4. Brooklyn Nine-Nine
Despite scoring big props at last year's Golden Globes (Andy Samberg won Best Actor in a Musical or Comedy and the show nabbed Best Series in the same category) Fox's rather overlooked cop comedy was all but shut out of this year's Emmys. 
Andre Braugher got a (well-deserved) nom for Outstanding Supporting Actor in a Comedy Series for his deadpan portrayal of the unflappable Capt. Ray Holt, but Samberg and the show's other very talented actors (Chelsea Peretti, notably), along with the show itself, got the cold shoulder. 
This year's noms for Outstanding Comedy Series include both the expected and the deserved -- Orange is the New Black, Louie, Modern Family -- but does HBO's Silicon Valley, which has a lot of untapped potential and talent, deserve a spot? We'd like to make a citizen's arrest on whoever was in charge of this decision.
5. The Americans
Many fans are grumbling that the grand snub of FX's excellently twisty Cold War espionage thriller is just plain unpatriotic. The Americans features a talent-heavy cast including Keri Russell (thoroughly shaking any last vestiges of the wishy-washy spectre of Felicity with her layered portrayal of a conflicted undercover Soviet spy) and Matthew Rhys as her equally complex partner — both also conspicuously snubbed. 
The Americans has been quietly but steadily building a devoted fan base and securing itself as one of sharpest dramas of the moment (not a surprise, as FX does dark drama very well indeed), distinguishing itself entirely from a certain other political/espionage thriller snapping up all more than its fair share of noms. (Ahem, Homeland.)
6. Nathan for You
This underrated Comedy Central gem is one for our fantasy Emmy draft ballots. Nathan Fielder just might be one of the most genius comedians on television right now, and very few people know it. 
The premise, for those not watching: Canadian oddball Fielder, impressively even more deadpan (and dead-eyed) than Braugher's Holt, plays a slightly off-center version of himself (think Stephen Colbert, but far, far stranger), a self-proclaimed "business adviser" who takes it upon himself to "help" struggling businesses. 
The results are most often side-splittingly hilarious, as the unwitting small-business owners have no clue what they've gotten themselves into. Fielder is responsible for the recent, brief appearance of a Dumb Starbucks in L.A. and helms an Instagram account in which seemingly innocuous photos are found to contain sneaky images of naked old men. 
In short, Fielder is well-deserving of an award for the fine work in comedy he's doing but, frankly, he's too damn strange for the Emmys. (Though we were pleased to see fellow Comedy Central hits Inside Amy Schumer and Key & Peele score noms.)