Here's the Long-Awaited Police Report on the Michael Brown Shooting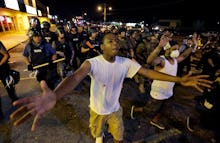 The news: After two weeks of protests and a violent police crackdown, officials in Ferguson, Missouri, have finally released the incident report detailing Michael Brown's death.
There's just one problem:
Image Credit: Death and Taxes
There's nothing in it. In what Death and Taxes calls "a fat middle finger to anyone who cares about justice," Ferguson police sent this heavily redacted two-page document to the Missouri branch of the American Civil Liberties Union late Thursday.
According to the ACLU website, this constitutes the official response to a Missouri Sunshine Law suit it filed Aug. 15, holding that federal law requires "public governmental bodies" — including the police — to "open their … records to the public."
The lawsuit was intended to ensure transparency in the investigation into the incident.
But: Clearly, this response leaves much to be desired.
Time reported that Officer Darren Wilson never filed an incident report after killing Brown. Ferguson police also released their own version of the killing in an equally redacted incident report on Wednesday:
Image Credit: Time
It's unclear why delivering two blank pieces of paper took so long, or how people in Ferguson will react to this uniquely troubling instance of police obfuscation. But one thing is certain: It doesn't bode well for a transparent investigation.
h/t Death and Taxes
Feb. 16, 2016, 3:05 p.m. Eastern: This story has been updated.
Correction: Feb. 16, 2016