A Staggering New Statistic Shows Why We Need to Be Talking About Syria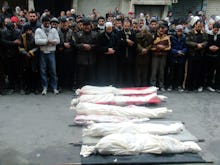 191,369 people. That's the latest death toll in Syria since the start of the civil war in 2011, according to a new UN report.
It's a sobering statistic -- that's equal to the entire population of Salt Lake City -- and a reminder that tragedy continues even when the news cycle has moved on to other things.
The report: The last time the UN looked at Syria's death toll was in June 2013, when the official number stood at 92,901. The huge increase since then includes new deaths from the past year as well as newly identified deaths from earlier in the conflict, the UN report says.
Getting exact statistics under such conditions is difficult. The UN Human Rights Office compiled a list of victims from five different sources, including nonprofits and the Syrian government itself. The records were compared, and the UN arrived at the final number once duplicates were accounted for.
There were 8,803 minors on the list, including more than 2,100 children under 10 years old. That number is likely much higher, the UN says, since most records don't include the victims' ages.
Even worse: "Tragically, it is probably an underestimate of the real total number of people killed during the first three years of this murderous conflict," UN High Commissioner for Human Rights Navi Pillay said in a statement. "I deeply regret that, given the onset of so many other armed conflicts in this period of global destabilization, the fighting in Syria and its dreadful impact on millions of civilians has dropped off the international radar."
The underestimate is because the UN's sources don't include lives lost indirectly thanks to the war. That includes those who died of starvation or disease after rebel areas were blockaded and those who may have been sent to secret prisons by the government.
Conflict in Syria has been overshadowed in the U.S. by horrific actions undertaken by the Islamic State in Iraq, including the beheading of journalist James Foley. If the U.S. wants to deal a major blow to IS, as Slate notes, it might have to cooperate with Syrian President Bashar al-Assad. The UN report serves as a stark reminder of just how unappetizing an alternative that is.
h/t ThinkProgress