Science Reveals How the Brains of Swimmers Are Different Than Everyone Else's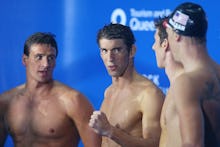 USA Swimming's finest are currently in Gold Coast, Australia, for the Pan Pacific Championships. The event, which began Thursday and continues through Monday, is the first of several high-level competitions leading up to the 2016 Olympic Games in Brazil. Pan Pacs marks Michael Phelps' return to international competition and also features America's latest swimming prodigies: Katy Ledecky and Missy Franklin. Ledecky is especially exciting to watch as she may be emerging as America's best swimmer now that Phelps is past his prime.
But few Americans care. As USA Today suggested, Ledecky may be "the most dominant athlete you don't know."
Phelps aside, this is a common phenomenon in the sport. American swimming is, like Ledecky, dominant. During the 2012 Olympic Games in London, Americans won more medals in swimming than they did in any other sport. Bleacher Report noted the 31 medals that Americans won in swimming alone in London were more than every country that participated in the Olympic Games except China, Russia, Great Britain, Germany, Japan, Australia and France.
This comes despite the International Olympic Committee's (IOC) best efforts to curb American aquatic dominance: After the 1976 Games, to ensure that Americans could not sweep the medal stand, the IOC reduced the number of swimmers that each country could enter in a race from three to two.
Perhaps no sport better reflects America's athletic prowess on the global stage than swimming. U.S. Soccer continues to fall short at World Cups. USA Basketball suffered through the 2004 Athens Games embarrassment. USA Track & Field has experienced a few too many doping scandals. Through it all, USA Swimming has consistently been a stalwart for national pride in international competition.
So, why don't we care?
Image Credit: Getty
Some of it might have to do with the swimmers themselves. The sport fosters highly disciplined, focused and even shy personalities. Ledecky is quoted in the Chicago Tribune as saying, "I just like the feeling of a hard workout." Her coach describes her as "quiet like an assassin" before races. She has opted to pass on becoming a professional athlete with corporate sponsorships, and announced her intention to attend Stanford University in 2015.
The best swimmers have an uncanny ability to submerge their head, enter aqueous sensory deprivation and stare at a black line at the bottom of the pool for hours on end. As described in a 60 Minutes profile, Phelps jumped into a pool to practice every day for five years leading up to his epic, eight gold medal performance at the 2008 Beijing Games. This feat takes an especially strange creature, not necessarily a charming media personality.
To be clear, "strange" should be taken only in the most complimentary of connotations. Phelps' training discipline is as admirable as his accomplishments. His is a Zen Buddhism blended with masochism kind of strange, one that features the mind shunning "normal" human impulses. The swimming fan favorite psych-up video, "Rise and Swim," which features Phelps, encourages swimmers to neglect "common sense" and take the 5 a.m. plunge into the cold waters of a pool.
To thrive, swimmers must romanticize their monotonous lifestyles. They seem to retreat into their mental sanctuaries for inspiration. As 2012 Olympian Alex Meyer describes in a day-in-the-life documentary, his ability to visualize races and let his imagination run wild helps him persist through training for swimming's 10-kilometer marathon race.
It is frustrating to think that perhaps the key to America's aquatic dominance is also its biggest barrier to establishing mass appeal. A swimmer's uncanny ability to endure monotony also fosters personalities that are not imminently marketable. There are, of course, exceptions. Franklin's bubbly, positive attitude has turned her into America's new "swimming sweetheart." Ryan Lochte, in his goofiness , comes across as a bit more approachable and marketable than Phelps.
P.H. Mullen wrote in Gold in the Water: "Once every quadrennium, American swimming shrugs off the tarps of obscurity and whips the world." As the cameras return to capture Phelps' comeback, it will be interesting to see if other American swimmers will capitalize on the opportunity to raise the sport's profile and more permanently trash those tarps.
In the meantime, SwimSwam has put together a list of links and TV schedules needed to follow the Pan Pac Championships this weekend.