Psychologists Find a Disturbing Thing Happens to Women Who Read '50 Shades of Grey'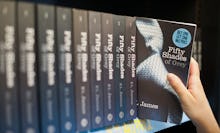 Getty Images
Anastasia Steele's biggest defeat may not have been submitting to her abuser's sexual desires, but convincing other women that the behavior was okay. At least that's the finding of a new study in the Journal of Women's Health, which claims young adult women who read Fifty Shades of Grey are more likely to replicate the behaviors of people in abusive relationships.
In the book series, Anastasia 'Ana' Steele is constantly afraid; not only of her abusive partner, Christian Grey, but of the realization that she is losing her sense of self. Though Ana's behavior is initially survivalist, it eventually become engrained as she automatically responds to her partner's abuse. Though fictional, the storyline is a chillingly accurate portrayal of very real life relationships.
The study: In a sample of 650 women aged 18-24, researchers at Michigan State University found that Fifty Shades of Grey readers were 25% more likely to have a partner who yelled or swore at them. Readers were also 34% more likely to have a partner who displayed stalking tendencies and 75% more likely to have fasted for more than 24 hours or used a diet aid. Worse still, women who read all three books in the series were more likely to regularly binge drink and have multiple sex partners, both of which are recognized risk factors for intimate partner violence.
One thing the study couldn't determine was whether women who engaged in risky behaviors started doing so before or after reading the books. Regardless of the order of the activity, the books could either have brought on the behaviors or further encouraged them, lead study author and behavioral scientist Amy Bonomi said in a press release. This is backed up by past research has shown that when we are consistently shown images that reinforce a specific behavior or body type, we are more likely to internalize those images and see them as normal.  
Normalizing dangerous relationships: While the research might be bad news for 50 Shades fans, it's important that we recognize how media depictions of abusive relationships can encourage the behavior in the real world. Intimate partner violence is a very real problem. Every minute, about 24 Americans are victims of rape, physical violence or stalking by an intimate partner. That's about 12 million men and women each year. Nearly 1 in 5 women (18%) and 1 in 71 men (1%) are raped during their lifetime.
Books, magazines and films that ignore this reality delegitimize the pain experienced by real-life survivors of abusive relationships. If you're looking for a real heroine, put down the book and start a healthy conversation with a friend instead.