An Unlikely Accessory Could Be the Ultimate Weapon Against Date-Rape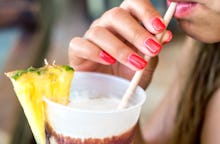 Getty
Forget matching your nails with your bag: This ingenious polish helps you protect yourself from date-rape.
Just mix up your margarita with a finger and voila: The polish, called Undercover Colors, changes color the second it detects Rohypnol (roofies) or GHB (G-juice), two of the most commonly used date-rape drugs. The creators, a team of four students, came up with the idea while studying materials science at North Carolina State.
The potentially life-saving polish is especially critical at a time when cases of sexual assault across college campuses are rising to an all-time high. Two of Undercover Colors' inventors are now PhD candidates at Duke University, where 30 students were assaulted or raped between 2010 and 2012. 
How date-rape drugs worsen a heinous problem: Date-rape drugs are odorless and colorless. They work by weakening muscles, impairing decision-making abilities and blurring memory, making it nearly impossible for people who've been dosed to defend themselves, or at least refuse sex. 
Many people who have been drugged have no idea until hours or even days later. And combining the substances with alcohol can make their effects even worse. 
Drugs and alcohol are just part of the problem: Sexual assault doesn't only happen in bars. In 2012, nearly 4,000 allegations of forcible sex offenses were filed at some of America's top universities; a number that has climbed 50% since 2009. More than 40 forcible sex offense claims were filed each at Harvard, Stanford and the University of California, Berkeley between 2010 and 2012. All of the crimes took place on campus. 
Smart ways to defend yourself: Entrepreneurs have been designing simple tools to help women protect themselves — from liquor glasses that flash red when they detect date-rape drugs to coasters that change color when a couple drops of a drink is spilled on them. 
It's unfortunate that these kinds of products even need to exist, but that's the reality of the situation. And while none of these tools can solve the underlying problem, each provides a subtle means of protection.
h/t Engadget