Intense Photos Capture Aftermath of San Francisco Bay Area's Biggest Earthquake Since 1989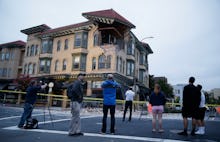 AP
In the early hours of Sunday morning, a magnitude 6.0 earthquake shook California's northern San Francisco Bay Area, marking the largest quake to hit the region since 1989's 6.9 magnitude Loma Prieta quake, according to the U.S. Geological Survey, reports the New York Post. 
The Post reports that, so far, 120 people have been sent to local hospitals, mostly with cuts and bruises from the early morning quake that sent its first shock waves at a depth of 6.7 miles around 3:20 a.m. PST.
"There's collapses, fires," Napa Fire Capt. Doug Bridewell said, according to the Post. "That's the worst shaking I've ever been in."
According to SFGate, more than 20,000 local homes and business are without power as of 8:00 a.m. Sunday morning. 
Based on the Richter Scale, a 6.0 is considered a "moderate" quake on the 10-point scale, but since its based on a logarithm, the severity increases exponentially as the classifications increase.
Because the quake only hit early in the morning, the USGS is still surveying the damage and analyzing the potential fallout. They have, however, already classified the quake as an "orange" status, meaning fatalities are expected to be low, but economic losses could be significant. 
And, oh no ... all that wine!
Update 8:15 a.m. EST: Three people were critically injured from the earthquake, including a 13-year-old boy.