President Obama Is Finally Addressing America's Troubling Police Militarization Problem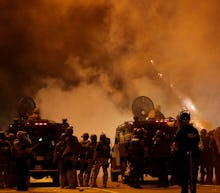 AP
The news: On Saturday, President Obama announced he's ordered an official review of the current state of local police force militarization in the United States, according to the New York Times. The announcement has been somewhat expected for sometime now after weeks of upheaval in Ferguson, Mo., where the local police force has faced harsh scrutiny after cops responded to protesting and riots looking more like military soldiers fighting a war than local law enforcement. 
Spearheaded by the White House, the review will assess federal grants like the The Edward Byrne Memorial Justice Assistance Grant program, the Defense Department's Excess Property program and the Pentagon's 1033 program. 
A senior administration official told the Washington Post, "Among other things, the president has asked for a review of whether these programs are appropriate" and "whether state and local law enforcement are provided with the necessary training and guidance; and whether the federal government is sufficiently auditing the use of equipment obtained through federal programs and funding." 
While it's only a start, there is potential for serious change.
"The review, coupled with proposed legislation and planned congressional hearings, opens the possibility for significant changes in Washington's approach to arming local law enforcement agencies," reported the New York Times. 
Military equipment: Since 1997, the Defense Department's Excess Property program has given $4.3 billion worth of extra gadgets like grenade launchers and tents to police stations. 
The Pentagon's 1033 program facilitates the transfer of military-style equipment ranging from low level items like night vision goggles to high level equipment like assault rifles and and bomb-disposing robots land into local cops' hands. And it's been expanding. In 2013, it made 51,779 weapon transfers worth $420 million to local police, according to the Washington Post. As Mic previously reported, "Cops have received $4.3 billion in ex-military swag since the program launched."
This is not a quick-fix solution. As much as Obama's ordered review is one step forward in addressing an issue facing Americans, it does not guarantee an immediate solution to the increasing (and, as Ferguson has shown, scary) militarization of police forces. 
Over half of Americans don't trust the police, especially when they aren't held accountable for their actions. And these untrustworthy cops also have military-style weapons to use at their disposal. The hope is that through this investigation of usage and equipment that the weaponry will eventually make its way out of the hands of cops who don't need it to begin with. 
h/t New York Times