Watch This Mesmerizing Time Lapse of Burning Man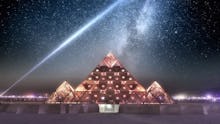 Vimeo
Next week, like at the end of every summer, a massive group of artists, creative-types and anyone interested in an adventure will come together in the Black Rock Desert in northern Nevada to "dedicate themselves to the spirit of community, art, self-expression, and self-reliance," according to the event's official website. It's actually kind of tricky to explain, so instead, just watch this mesmerizing time lapse of last year's event:
Titled "Lake of Dreams," the video was created and posted last week by roy two thousand, a self-described "musician, film maker, photographer, futurist ..." and serves as an awesome moving snap shot of what Burning Man really is. 
Of course, while a video like this could never actually replicate or replace the experience of going to an event as unique as Burning Man, it does offer some otherwise-unattainable unique vistas and perspectives, event-attendee or not. 
Changing times: Started in 1986 by a small group of friends, Burning Man has grown in the last few decades into a massive 70,000-person event (last year's hit 69,613, though this year's ticket cap has been set at 35,000). 
Though some people think of the event as a massive art-supported, drug-induced orgy, the attendees are deeply aware of the event's guiding principles of community, artwork, absurdity, decommodification and revelry. 
That said, some participants in recent years have reportedly been less into the experience than others. ValleyWag reported that "Rich Pricks Ruined Burning Man (Again)" while the New York Times published a story last week outlining how the event has become a way for the "tech elite [to] one-up one another," writing:
"The rich are flown in on private planes, then picked up at the Burning Man airport, driven to their camp and served like kings and queens for a week. (Their meals are prepared by teams of chefs, which can include sushi, lobster boils and steak tartare — yes, in the middle of 110-degree heat.)"
Yeah, too bad.
But try as they might, a few rich yuppies will have a hard time taking down an event of this magnitude and with this much history and community support. 
Some of this year's predicted work has already been leaked, all of which play into this year's theme of "Caravansary" and look pretty amazing. Additionally, the Financial Times reported that Burning Man has actually become a fertile bed of new ideas for contemporary housing solutions. 
h/t Fast Company