One Newspaper Front Page Perfectly Captures a Major Source of Racial Tension in America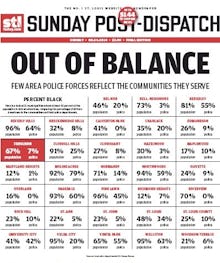 STLToday
The front page of Sunday's St. Louis Post-Dispatch should stop you in your tracks. It illustrates, in striking red, white and black text, the lopsided racial breakdowns of police forces across the state of Missouri. 
The paper's graphic looks at municipalities with a more than 10% African American population and examines their police forces' demographics. In Ferguson, for example, the population is 67% African American; the police department, however, is just 7% African American. 
And that's not the worst. In Riverview, the population is 70% African American, while the police force is 0% African American. It's similar in Calverton Park where the population is 41% African-American, while the police force is also 0% African-American. 
Things aren't that uneven everywhere. In University City, for instance, the breakdown is almost exactly the same (41% for the population, 42% for the police.) Yet that's not the norm — more often than not, the breakdowns are disturbingly unbalanced. 
We've seen this before. While it's notable that a major newspaper is putting these figures on its front page, it's not exactly new information. Mic's Zak Cheney-Rice previously highlighted these disparities, noting that, at least in Ferguson, it's also entirely possible the remaining white officers don't even live within the city itself.   
The unevenness doesn't stop there, either. African-Americans in Ferguson are also targeted far more than whites for traffic stops, arrests and searches. 
But these stats prove it's not just Ferguson. They indicate a problem that is systemic rather than isolated. As Post-Dispatch columnist Aisha Sultan told the Concourse, "[Ferguson] is a microcosm of the rest of the country. If this can happen in St. Louis, it can happen in any city."
Image Credit: St. Louis Post-Dispatch via Newsweek
The Post-Dispatch has run some excellent — if sobering — covers during the crisis in Ferguson, and today's front page is yet another example. 
h/t ThinkProgress