This Woman Just Became the First Openly Gay National Beauty Queen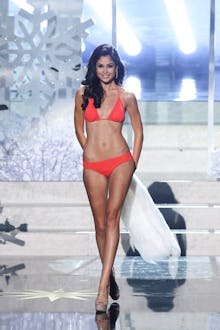 Getty Images
Meet Patricia Yurena. 
Yuerna is a former Miss Spain, holding the crown in 2008 and 2013, and was the runner up in the Miss Universe competition last year. And she just told the world that she's gay. 
On Tuesday, Yurena posted the photo below to her Instagram account with the caption, "Romeo and Juliet." Her brazen choice to come out is marked since she will be the country's first ever openly gay national beauty queen. 
Yuerna is joined in the Instagram photo by her girlfriend Vanesa Cortes, a DJ and singer. After the Spanish beauty queen posted the image, her fans quickly responded by applauding and encouraging the decision.   
Being proud of who you are. According to the New York Daily News, Yurena told La Opinion de Tenerife, "I don't regret what I did and I did it because I am happy about what's going on in my life."
After thanking her fans for all the support, Yurena posted another pic of her and Cortes on Friday.
She won't be the last. Yurena may be the first openly gay beauty queen in Spain, but the pageant world is undergoing a major change as the competitions embrace more and more unconventionalities. In 2013, Miss Kansas was the first contestant to have tattoos, Miss Idaho wore an insulin pump during the swimsuit competition in 2014 and former Miss Kentucky came out of the closet in March of this year. 
Miss Spain is an exemplary role model that can be added to the list of inspiring women in the pageant world. Yurena's announcement was an impulsive natural expression with an empowering message for people everywhere: Be who you are, no matter what. 
h/t Jezebel