Actor and Director Richard Attenborough Has Died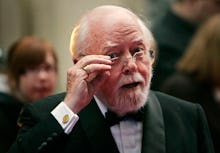 AP
Beloved British actor and director Richard Attenborough died on Sunday at the age of 90, his son told the BBC on Sunday.
Attenborough, one of Britain's top actors, appeared in films including Brighton Rock, The Great Escape and Jurassic Park. As a director, he won two Oscars for his work on the 1982 epic Gandhi. The Associated Press notes that outside of cinema, Attenborough was widely recognized for his extensive work as a goodwill ambassador for UNICEF and his commitment to other humanitarian causes.
The BBC reports that Attenborough had been in a nursing home with his wife "for a number of years." Attenborough had been confined to a wheelchair after suffering from a stroke and brief coma in 2008.