The VMAs Were the Best Beyoncé Concert Ever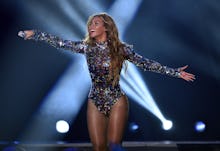 The pre-VMA Beyoncé rumors were plentiful, the loudest rumor in the bunch being that Beyoncé would perform a medley of her entire self-titled 2013 album as a precursor to her Video Vanguard Award acceptance; those rumors were deliciously close to the truth.
Queen Bey didn't even try to pretend like the night wasn't all about her, as she said herself while opening the set, "MTV, welcome to my world." 
Bey took to the stage in a bejeweled jewel-toned leotard and began what was essentially a mashed-up track of the entire Beyonce album, starting with "Mine" and finishing it out with "XO." In the middle she found time for: 
"Haunted," "No Angel," "Jealous," "Blow," "Drunk In Love," "Rocket," "Partition," "Flawless," "Yonce" and "Blue."
Reactions to the moment on Twitter looked a little like this: 
During the mini concert, Beyoncé managed to prove just how worthy she is of our (somewhat excessive) adulation. What other artist maintains the unparalleled ability to sing, dance, shimmy, giggle, grimace and cry, all seemingly without the need to breathe?
On a night when female artists shined, Beyoncé's heavily feminist finale (underscored by Jay-Z in the audience with Blue Ivy on his lap, not to mention the word "Feminist" emblazoned behind her) was the icing on the cake.
Image Credit: Getty Images 
When Jay presented her with the Video Vanguard Award, the power couple created a VMAs family moment large enough to squash all those pesky divorce rumors. 
Image Credit: Getty Images 
Blue even did her part with a coo-worthy, "Good job, Mommy." 
From a "Crazy In Love" performance with Jay-Z at the 2003 VMAs, to announcing her pregnancy at the 2011 VMAs, to the family statement that was her 2014 showstopper, Bey has made lot of relationship status updates on the VMAs stage.
After tonight, one thing remains quite certain though: Bey sits pretty on that pop throne, and don't you forget it.