Katy Perry Brings Back Britney And Justin's Epic Double Denim Moment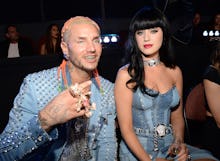 Earlier Sunday night, Katy Perry tweeted that her VMAs outfit was inspired by "my love for nostalgia and my tumblr addiction." 
She then posted this photo to her Instagram account minutes before rocking up to the red carpet: 
Well, she wasn't joking. She and date Riff Raff perfectly recreated Britney Spears and Justin Timberlake's Canadian Tuxedo-inspired getup from 2001: 
Perry's outfit consisted of a denim dress in a similar cut to Britney's — albeit with a few more studs — as well as a tiny purse, a metallic belt and a choker. Riff Raff channeled Justin in a denim suit, although he went with cornrows instead of Justin's signature curls. (The sunglasses remained, though.) 
You go, Katy.