Taylor Swift Looked Like Everybody But Herself at the VMAs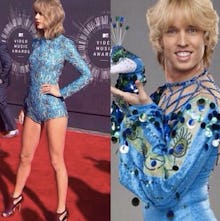 Up until Sunday night, we'd come to expect Taylor Swift to hit the red carpet wearing a glittery gown in shades of gold and red.
But, like her designation as a country singer, that ship has clearly sailed. At Sunday's MTV VMAs, Swift showed up wearing, well, we can't even properly describe it. A leotard? A onesie? A figure skating costume?
Thankfully, we had Twitter to help us identify Swift's bold sartorial statement. The girl was channeling ...
A figure skater
The Riddler 
A synchronized swimmer
A Beatle