Miley Cyrus Finally Knows How We Felt Watching Her at Last Year's VMAs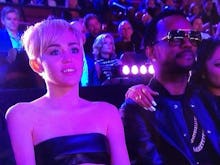 Remember Miley Cyrus' outrageously twerk-tastic performance at last year's MTV VMAs? This year, it's Cyrus who gets to squirm at MTV's annual musical bacchanalia.
Taylor Swift performed at Sunday's awards show with a frenetic rendition of "Shake It Off," backed by a bevy of suit-clad backup dancers:
2014 VMA - Artists.MTV - Music - Taylor Swift
The delicious irony? Miley, that was you last year. 
Time is a flat circle, Miley.