Common's Powerful VMAs Speech Is Needed Now More Than Ever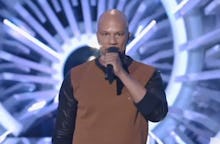 "For the past two weeks, the eyes of the nation have been on Ferguson," said Common, taking the stage at Sunday night's MTV VMAs and broaching the topic of the civil unrest in Missouri for the first time that evening.
The moment was fitting: Common was tasked with presenting the award for Best Hip-Hop Video, and as he reminded the crowd, hip-hop has rarely shied away from society's biggest controversies and injustices — particularly when it comes to race.
In fact, it's traditionally drawn attention to those realities. Protesters in Missouri as well as people across the country, said Common, "have used their voices to call for justice and change, to let everyone know that each and every one of our lives matter." And from its very inception, hip-hop has done the same: "Hip-hop has always been about truth and has been a powerful instrument of social change, from Melle Mel to Public Enemy to Kendrick Lamar," Common reminded us. "Hip-hop has always presented a voice for the revolution."
"Hip-hop has always presented a voice for the revolution."
Drake was the winner of the Best Hip-Hop Video award, though he was not on hand to accept it. But Common's message, accompanied by a moment of silence for Michael Brown and those protesting in Missouri, was what got the crowd's attention — and reminded everyone why so many people make music in the first place. Watch the video here.