Miley Cyrus Surprises Everyone By Using Her VMA Win to Shine Light on Youth Homelessness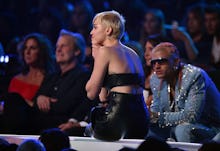 Miley Cyrus had a lot of ground to make up after last year's much-maligned twerk-tastic performance at the VMAs. But leave it to the "Wrecking Ball" singer to surprise everyone: At the 2014 MTV VMAs, she used her Video of the Year win to spotlight a pressing social issue.
When Jimmy Fallon announced that Miley's "Wrecking Ball" video was the winner, an unfamiliar young man took the stage instead of the singer and introduced himself as Jesse, one of the thousands of homeless youth in the United States. "Though I may have been invisible to you on the streets, I have a lot of the same dreams that brought many of you here tonight," he told the crowd.
Speaking on behalf of the "runaways and homeless youth of the United States, who are starving, lost and scared for their lives right now," he pointed out that while the audience members sit inside and take in flashy performances in fancy outfits, "outside these doors are 54,000 human beings who have no place to call home." 
To address the epidemic of youth homelessness in this country, Jesse said, we can all head to Miley's Facebook page, where she is raising money to support a youth homeless center.
Miley watched on with tears in her eyes, while Twitter burst at the seams with a collective wave of pleasant surprise. Jesse wrapped up with a Yoko Ono quote: "A dream you dream alone is only a dream. A dream you dream together is reality."
Needless to say, no one saw this coming — but we are so glad it did. In 2013, approximately 50,000 young people in the U.S. slept on the streets for six months or more, according to the National Alliance to End Homelessness, and those numbers are at an all-time high.
Many viewers at home probably weren't thinking about this issue before the VMAs kicked off on Sunday night, but we have a feeling there will be a few more visitors than usual to My Friend's Place, Miley's chosen organization to aid homeless youth, tonight. We never thought we'd say this, but: Well done, Miley.