The U.S. and U.K. Are Assembling 'Task Force Black' to Take on the Islamic State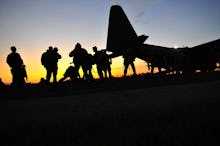 Getty
The news: In response to the growing aggression and violence from the Islamic State, the U.S. and U.K. are teaming up to assemble an elite black ops squad consists of members of the U.S.'s CIA, Delta Force and Seal Team 6 and the U.K.'s Special Air Service, MI5 and MI6, according to the U.K.'s Mirror. 
And what do you call such an awesome team? Task Force Black. Yeah, pretty bad-ass. 
Sources tell the Mirror that the team is being formed partially in response to the Islamic State's execution of American photojournalist James Foley. The execution and accompanying grizzly video have led the U.S. to begin more aggressive actions, feeling the need to respond to forceful actions with their own forceful actions. 
A similar team was formed around 2006 and reportedly took out 3,500 al-Qaida targets in Iraq over a two-year period. This time around, Task Force Black will specifically focus on high-profile targets in the IS leadership. 
"We need to go into Syria and Iraq and kill as many IS members as we can. You can't ­negotiate with these people," a source told the Mirror. "This is not a war of choice. They are cash rich and have a plentiful ­supply of arms. If we don't go after them, they will soon come after us."
The Islamic State poses a frightening threat to the West. Once an offshoot of al-Qaida, the self-declared caliphate has organized a militaristic takeover led by the enigmatic Abu Bakr al-Baghdadi, the first man since the Ottoman Empire to be named as a successor to Prophet Mohammed. What has followed has been a series of disturbingly quick victories in Iraq and Syria, with insurgents now seeking to control the Turkish border area.
IS remains the richest terrorist organization in the world, with its coffers filled from the illegal oil trade and a series of high-revenue bank robberies. It has also gained notoriety for being particularly violent and bloodthirsty, even earning the disavowal of its once parent organization, al-Qaida.
Still, IS faces major challenges. While Western military forces like Task Force Black certainly pose a threat to the organization, it has also not been very successful in its chief goal of being recognized as the true caliphate by Muslim nations. High-ranking Islamic authorities from Egypt and Saudi Arabia have denounced IS for its violent tactics, going as far as to call it an enemy of Islam. Susilo Bambang Yudhoyono, president of Indonesia — the country with the largest Muslim population in the world — has also rejected IS as "embarrassing" to Islam and has urged Islamic leaders to reject its radical ideology.
"This is a new wake-up call to international leaders all over the world, including Islamic leaders," he said in an interview with the Australian. "The philosophy of ISIS stands against the fundamental values we embrace in Indonesia."
If your reputation is so bloody that it makes al-Qaida queasy, you're going to have a hard time winning the hearts and minds of the very people you want to join you.