European Politicians Have a Strong Message for American Climate Change Deniers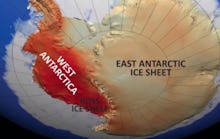 NASA
"If a policymaker were to stand up here and say this is all a big hoax, it would be political self-suicide."
That's the sentiment surrounding climate change in Europe. Meanwhile the United States is still having a debate over whether man-made climate change is real.
Even as President Barack Obama attempts to introduce ambitious plans to reduce carbon emissions, the U.S. government is having difficulty even acknowledging the reality of climate change — something that our European counterparts have moved past long ago.
That contrast came into sharp relief in a recent Topeka Capital-Journal article, which compared the attitudes of Kansas legislators on climate change with those of European politicians and scientists. Among the latter, the consensus was quite clear: Man-made effects on climate change are real and solutions must be found immediately and implemented on a global scale.
Here are a few choice quotes from European politicians:
"You can find some who doubt humans are causing climate change ... But I think a definite majority of people think humans do cause climate change." — Lars Hjalmered, a member of Sweden's Moderate Party
"But there is at least nobody that says climate change is an invention of some scientists ... There's no debate in a committee about this." — Oliver Krischer, vice chairman of Germany's Green Party
"(Addressing) climate change is an integral part in working towards sustainability which, in turn, is one of the three central goals for European energy policy besides competitiveness and security of supply." — Joachim Pfeiffer, a member of Germany's Christian Democratic Union party
"Here, 98% of the population says it's a real problem, it's a real concern ... If a policymaker were to stand up here and say this is all a big hoax, it would be political self-suicide." — Felix Matthes, a climate and energy researcher at Germany's Oko Institute
Facts are piling up against climate change deniers. The National Oceanic and Atmospheric Administration (NOAA) announced in April that the level of carbon dioxide in the air has reached 402 parts per million (ppm), the highest it's been in at least 800,000 years. While that alone is enough cause for concern, there is even more bad news: The World Meteorological Organization (WMO) announced soon afterwards that CO2 concentration averaged more than 400 ppm for all of April across the northern hemisphere — for the first time in human history.
"Time is running out," WMO Secretary-General Michel Jarraud said in a statement at the time. "This should serve as yet another wake-up call about the constantly rising levels of greenhouse gases which are driving climate change. If we are to preserve our planet for future generations, we need urgent action to curb new emissions of these heat-trapping gases."
While some global warming can be attributed to natural trends, the sharp increase in CO2 levels since the advent of industrialization indicates that much of it is man-made. A recent UN report affirmed with 95% certainty that humans have "been the dominant cause of the observed warming since the mid-20th century."
But America is not alone in its climate change denial. While the U.S. government's slow response on climate change might seem frustrating, it has company. Back in June when Obama announced taking action against carbon emissions, the heads of Australia and Canada said that they didn't feel any additional pressure to address climate change if it meant potentially hurting their economies. "And, frankly, every single country in the world, this is their position: No country is going to undertake actions on climate change, no matter what they say; no country is going to take actions that are going to deliberately destroy jobs and growth in their country," Canadian Prime Minister Stephen Harper said at the time.
Canada, a major energy exporter, is sure to miss its carbon emission reduction goal, while the Australian government is actively trying to repeal taxes on carbon and mining emissions; its prime minister Tony Abbott has previously described climate change as "absolute crap."
So keep in mind that while American lawmakers may seem nonsensical compared to their European counterparts in matters of climate change, there are those in other countries who could also benefit from a visit from Bill Nye the Science Guy:
h/t CJOnline