What It Means That the French Government "Dissolved"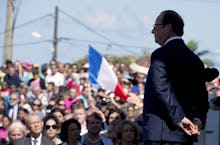 The news: After quarreling between top ministers, French President Francois Hollande's government was dissolved Monday just four months after it was formed.
The move, designed to reign in leftist critics of Hollande's administration, will likely oust various cabinet officials like Socialist Economy Minister Arnaud Montebourg, who has harshly spoken out against Hollande's perceived shift to the right on economic policies such as deficit trimming and lowering the tax burden on businesses, according to the BBC.
Now Prime Minister Manuel Valls will need to create a new government by Tuesday that can obtain the approval of the national assembly. This is the second time in six months that Hollande has dissolved the government.
How does a government actually "dissolve"? Neither the president nor the prime minister is leaving office, but they have announced that the current Council of Ministers is unable to work together and must be replaced by those who can.
The French president, however, relies upon the majority approval of the national assembly to form a new government. If Montebourg's exit prompts some members of the legislature to withdraw their support, Hollande could find himself without sufficient approval to complete the reshuffle.
This might be a real problem, considering Hollande's support right now is tenuous. Reuters reports his approval rating is just 17%, the lowest of any leader since the the 1958 formation of the current republic. Despite promises of a renewed focus on growth, French leftists view Hollande's three-year plan to cut public spending to finance tax cuts for businesses as a betrayal. Unemployment remains above 10%, while growth has stagnated at essentially zero the entire year.
Traditional conservatives in the UMP may also soon run into turmoil. The Guardian's Anne Penketh reports that multiple former ministers are planning on challenging former President Nicolas Sarkozy in primary elections.
Why you should care: Hollande could quickly form a government and the reshuffle could be an embarrassing blip on his presidency's record, or it could trigger a larger revolt in the assembly against his leadership.
"Mr. Hollande is sending a message at the national and international level that France will not change its economic direction at a time of great political and economic weakness in France," professor Pascal Perrineau at the Institut d'Etudes Politiques in Paris told the New York Times.
There are potentially two big winners in the long run. One is Montebourg, whose exit CEVIPOF director Martial Foucault says "resonates like real ambition for 2017." Meanwhile, the far-right National Front is gaining momentum as establishment players repeatedly fail to run a coherent government.